How to make edibles that will hit your taste bar!
I know many people scroll though many things to understand how to make edibles easily at home! Even when your main quest revolves around how to make edibles with simple steps, I would like to unfold that making edibles at home is an entirely different process than just pouring your weed in the blend of brownie.
And the fantastic news is that you don't have to be an expert in knowing everything about cooking with weed!
Just go through our simple guide to explore how to make edibles easily and most straightforwardly, you will be delighted by the slot of yummy and tasty edibles in your pantry in a couple of minutes!
HOW TO MAKE MARIJUANA EDIBLES
We would like to guide you with some caution first!
KEEP TRACK OF THE SMELL!
When you are cooking with marijuana, you can step up for fragrant candles to mask up the smell of marijuana, specifically, if you are cooking with butter or oil, this step is essential, and when you intend to cook with whole marijuana, you should keep in mind about the lingering of smell for next couple of hours.
CHECK OF THE DOSAGE
When it's about marijuana, one thing that should be considered carefully is the dosage of your ingredients. As this process is quite different from other types of consumption, keeping track of dosage becomes a necessary thing.
If you are a newbie who is keen to know how to make edibles with marijuana, remember that unfolding the correct amount of marijuana dosage might feel quite tricky to you. You would require some unique calculations skills!
The first essential step is to know the amount of THC is in the pot strain you will be utilizing. The usual content is 10% THC in many strains (if something is going above the average of 20%, it is quite strong). If you are clueless about how robust your weed will be, you should choose the 10% average.
How to make edibles with marijuana's perfect quantity also depends upon the rate of THC you would be using per serving! In Colorado, the serving portion of marijuana edibles is 10 mg of THC, but 5 mg per serving is also a good starting point for starters.
You can convert the rate of weed you are using into THC milligrams. Around 1,000 mg of dry weight can be estimated for each gram of cannabis bud, that means that every one gram of weed contains about 100 mg of THC-but you should be using a strain with 10% THC.
Explore upcoming guide about how to make edibles with marijuana! Just keep scrolling on!
Let's take an example, To get 5 mg of THC per cookie, you would need around 3 grams of weed, If the average yield is 60 cookies.
If you find the calculation part too much complicated, you can go for the online calculator!
THE EFFECTS:
Also, keep a check on this last thing on how to make edibles with weed — you should be watchful about how much quantity you consume in a single sitting!
Keep check, smoking is quite different than weed high. It will take much longer to kick in but stays for too long! Have some patience to see the effects and don't consume too much!
When you are cooking edibles with marijuana, you can also follow the simple quote of less is more.
How to Make Edibles with Decarboxylation:
You have to decarb your weed prior you start making your edible.
You should not indulge the usage of raw cannabis in your cooking or eating, keep this thing in mind. Fresh weed is very nasty in taste as well as it won't get you to feel high.
Decarboxylation is a process which is done to get THC activated; it requires heating of cannabis. The term is quite confusing than the real process itself!
STEP ONE:
You just go through the first step of "how to make weed edibles" simply tear or break the leaf and keep it in the oven which is preheated at 240ºF for 30 to 40 minutes, it should take the golden brown shade.
Afterwards, grind the leaf properly, the blend should feel like the consistency of table salt. If you grind the marijuana too smooth, it will transform your butter or oil into green shade which would resemble like grass.
STEP TWO — Preparation of Cannabutter
You should know the real procedure of making the cannabutter if you are attempting to learn how to make edibles with cannabis. In all significant weed recipes, cannabutter is the essential ingredient, and it is a very easy process to make cannabutter ready.
HOW TO MAKE CANNABUTTER
INGREDIENTS:
Unsalted butter, or two sticks – 1 cup
Water – ½ cup
Ground cannabis – 1 cup
INSTRUCTIONS:
Take the butter and melt it. Pour some water to administer the temperature and as the brew burns quite quickly, keep a check on it. If you are using a double boiler for making cannabutter, pour 3 to 4 cups of water in the lower chamber and fill it, keep the butter in the upper chamber and keep it for heating on medium flame.
Add the marijuana just at the point when the butter begins to melt. For least 2–3 hours, keep simmering it. To prevent it from boiling, keep stirring it.
Filter the liquid with cheesecloth to discard the additional raw material and stream the leftover liquid in the container after the butter has cooled off.
Keep it in the fridge for an hour and let it get cold. Leave a brown liquid behind and get the solid butter.
Have you had any doubt about for how much time you should cook cannabutter in the crockpot?
Well, we would suggest you to cook for at least 8 to 12 hours. Make sure to maintain the average temperature of 160ºF (70°C) while whole process. Keep heat flame at low if you are cooking with cooker or crock.
WHY YOU SHOULD BE USING A SLOW COOKER FOR CANNABUTTER?
Your mixture will be prevented from burning if you do this. The butter (or oil) will be more potent is the next significant benefit.
HOW TO MAKE STRONGER CANNABUTTER?
You can use a more robust weed strain to ensure maximum potency of your cannabutter. If you want more potent weed butter, weed strain should be stronger. White Widow, Trainwreck are some of the best cannabis strains that you can use for cannabutter. The content of THC is about 16% in it.
But more bud results in more potency statement is not correct. As I have mentioned before, when using edibles, less is more theory works more profoundly. So don't create the big hole in your pocket by spending too much on weed flower and just make the correct utilization of what this plant offers already.
Also Read,
HOW TO MAKE EDIBLES WITH SHAKE
Some useful advice: You can anytime make use of shake if you are making cannabutter, so you can be assured that nothing will be wasted.
The pieces that are leftover at the bottom of your weed bag is what shake means. The shake are smaller buds that contain stems and leaves for all purposes. But the bits and pieces won't create many alterations as you are straining the butter.
If you are aiming for perfect cannabutter, just discard a thought. There is no perfect method to adapt while making the cannabutter, and also any science-backed processes are not there, so the concept of ideal cannabutter is just futile.
Cooking it comes with lots of trials and mistakes. You should try new methods and dosages and decide which one works perfectly for you! You can start cooking for real once your cannabutter gets ready and begin to take classics steps for charming edibles.
HOW TO MAKE CANNABIS EDIBLES:
Many times, you might ponder upon the question, "how to make edibles without cooking." You can consume cannabis in a unique way by making edibles with cannabis. And you could even go through the market pre-made cannabis, but homemade cannabis edibles are just pure raw fun!
When you are consuming edibles, just be careful about the dosage and learn how to calculate dosages prior hand when attempting for cannabis edibles.
We have numerous ways to have tasty edibles, and usage of the oven is essential in many. And the query is what you will do if you don't have an oven!
Don't stress over it; we have an easy solution for it! You can also have tastiest cannabis edibles even when you don't have an oven at home!
INGREDIENTS:
Cannabutter – ½ cup
Milk – ½ cup
Sugar – 2 cups
Cocoa – 4 tablespoons
Peanut butter – 1 cup
Vanilla – 1 tablespoon
Oatmeal – 3 cups
INSTRUCTIONS
Merge the cannabutter, cocoa, milk, sugar, in the saucepan. Whisk it until the smooth paste of blend is formed.
Then pour the vanilla, peanut butter, oatmeal and again make a proper blend of it.
Simply pour the mix on a non-stick cookie paper or wax paper by using spoon. Keep it for 10 minutes and let it get rest so that it will be dried up!
And your yummy cannabis edibles are prepared! Enjoy!
HOW TO MAKE EDIBLES WITH WAX AND SHATTER
You might have heard of making edibles by using natural, authentic ways like using marijuana or trim, the greenish tint and robust flavour of marijuana in cannabutter are the results of this step.
Edibles can also be made with concentrates like wax, resin, etc.
The process becomes much easier when you use concentrated instead of flowers in making your homemade edibles, as we are not extracting, just infusing.
The step of straining plant matter out of butter or olive oil can be skipped, and the melted, decarboxylated concentrate can be merged as it is, into anything.
The process is quite simple, just go through it once!
Marijuana concentrates are also an excellent idea to make weed edibles and make good alternatives when you want to save pennies. Simply decarb the concentrate and then stream it in the edible of your choice, follow this simple step!
Shatter is low in price than a flower; you'll need much less when you are using it for making edibles. Plus, and the fragrance is much better than cannabutter.
HOW TO MAKE EDIBLES OF WEED BROWNIES
Weed brownies are popular for their regal authentic taste! They are very rich in chocolate content, quite straightforward and easy to make— and there is an array of the reason why you would love these authentic vintage styles marijuana brownies!
INGREDIENTS:
Pure vanilla extract – 1 teaspoon
Eggs – 2 large
Sugar – 2 cups
Unsalted butter – 3 ¾ ounces
Cannabutter – ¾ cup
All-purpose flour – 1 cup
Unsweetened cocoa powder (optional) – ⅓ cup
Chocolate – 4 oz.
Baking powder – ½ teaspoon
Salt – ½ teaspoon
Explore these simple tips on 'how to make edibles with weed brownies':
Keep the oven for preheating for 350 °F (180°C).
By using the regular butter, grease the pan.
Take chocolate and melt the chocolate in the saucepan or microwave.
Blend the sugar, salt, water, cocoa, vanilla, cannabis butter with the melted chocolate.
Afterwards, mix the eggs in a single attempt.
Take a bowl and add the flour to it and whisk it for 3 minutes.
Stream the batter in the pan and keep baking it about 30 minutes.
Allow it to cool down, make the equal slices of pieces, and enjoy its taste!
HOW TO MAKE EDIBLES CANDY
You can select from a vast number of flavours when making THC, and this is the unique fact of about these yummy THC edibles, your lovely childhood memories will be evoked in your mind after having a bite of these. And the classic royal appeal in its appearance is unavoidable with its utterly delicious taste.
INGREDIENTS:
Water – ¼ cup
Honey – ½ cup
Cannabis tincture – 2-3 spoons or cannabutter – 2 cups
Flavour (your choice) – 1 tablespoon
Sugar – 1 cup
Corn syrup – ½ cup
Salt – 1 teaspoon
HOW TO MAKE EDIBLES (APPEALING CANDIES):
Take two baking trays and grease them, by using cannabutter, or you can even use regular butter.
Take a big pan, stream some water along with sugar, and corn syrup in the pan, keep stirring the blend and keep it on heat flame until it hits a temperature of 270°F.
Afterwards pour salt, leftover cannabutter, or honey and keep it on the medium heat flame until it reaches a temperature of 300°F.
Take the moulds and stream blend in it, or you can also use baking trays, and keep it to cool down for at least 5 minutes.
Make even cubes by cutting them and preserve the candy until you are ready to eat.
HOW TO MAKE EDIBLES COOKIES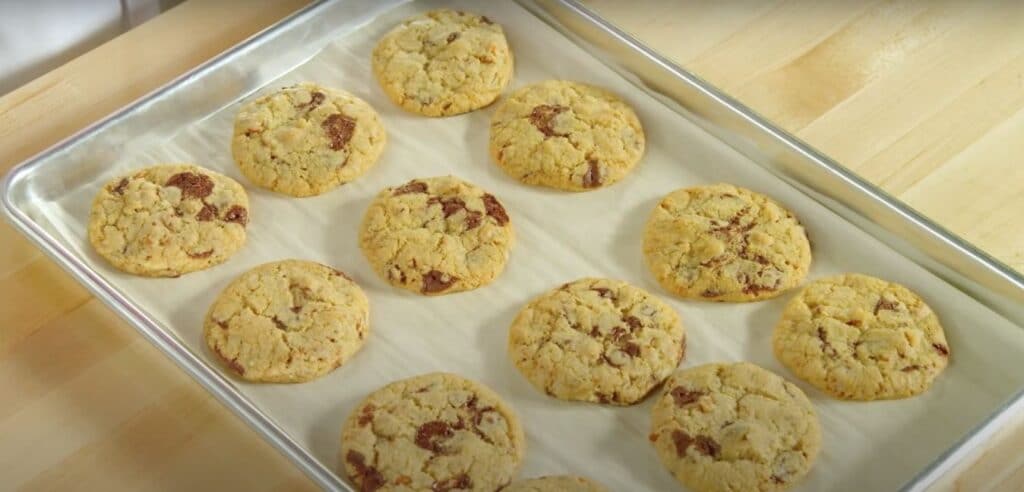 The flavour and taste of these delicious cookies and those made by your grandma will differ quite a lot, but we can assure you that cookies made up of weed taste amazing and wholly delicious! You will be having something all-ready in your pantry to delight your home visitors!
INGREDIENTS:
Unsalted, melted butter – ¾ cup
White sugar – 1 cup
Eggs – 2
Chocolate chips – 2 cups
Cannabutter – 1 cup
Brown sugar – 1 cup
Vanilla – 2 teaspoons
Baking soda – 2 teaspoons
Salt – ½ teaspoon
All-purpose flour – 3 cups
HOW TO MAKE EDIBLES FOR DELICOUS COOKIES:
Keep the oven for preheating for 350°F (180°C).
Take a bowl and pour the sugar, eggs, cannabutter in it. Afterwards, pour the vanilla.
Let the baking soda melt completely and merge it with the mixture.
In another bowl, blend the flour and salt together. If there is no usage of cannabutter, a decarbed bud can be put directly in this mixture, and if you involve cannabutter, then mix it with butter mixture.
Mix some chocolate chips in it.
Use a parchment paper and cover the top of the baking tray and keep the dough on the plate.
Until the cookies take up lovely brown shade keep baking it, at least for 10 minutes.
HOW TO MAKE EDIBLES WITHOUT BUTTER
Even though butter holds much importance in making any weed edibles, some fantastic recipes make their way to create some yummiest cookies without the usage of butter. Cannabutter is mostly used in many marijuana edibles, and we are going to disclose the unique butter-less ways and alternatives for you to maintain the deliciousness of your cookies, so let's begin!
CANNABIS OIL (CANNA OIL)
As cannabis oil has a high content of saturated fat that absorbs much more cannabinoids even than butter, cannabis coconut oil is becoming exceedingly popular as the excellent alternative of cannabutter in weed cookies.
But, there is no need to stress upon involving coconut oil in it. You can make use of any herb oil such as olive that is handy to make cannabis oil. Just go through this easy procedure, and you would have no doubts in finding out how to make edibles by using oil.
You just need to have one cup of decarboxylated marijuana and 1 cup of oil, and the canna oil can be prepared with these two simple ingredients. The ingredient list is that much simple!
To add up the oil, follow these simple steps:
Keep it on medium heat and after some time, pour cannabis and stir it occasionally. Stream some water in it if you find it is burning. Allow the mixture to simmer for at least 30 to 45 minutes, and 8 to 12 hours if you are crockpot and use the cheesecloth to strain and extract the oil.
Keep the mixture in the fridge and allow it cool down for some time.
HOW TO MAKE EDIBLES WITH KIEF
Kief is those tiny, moisture crystals that are found on cannabis, through the grinding process, these are separated from the trichomes. There is a high amount of terpenes and cannabinoids present in the kief that makes it the purest and potential portion of the plant.
Kief can be used in the process to make butter and oil, or you could just choose to pour kief in your favourite edible.
We have a fantastic tip for you, just stream some kief in cookie dough and voila, and you will end up with cookies made up with kief!
HOW TO MAKE FIRECRACKER EDIBLES:
Firecracker edibles are those edibles that are very easy and handy to make, yet also one of the tastiest edibles.
INGREDIENTS FOR FIRECRACKER EDIBLES:
Nutella
Cannabis – 1 gr
Graham cracker – 1
Peanut butter
How to make edible with firecrackers:
Make half portion of graham cracker by breaking it.
Afterwards, roll on the Nutella on one and peanut butter on the other one.
Put little amount of weed in cracker.
Club both pieces properly together and use tin foil to wrap them.
Finally, keep it for baking for about 22 minutes.
How to make edibles that spike up in your bloodstream more quickly?
To make sure that they hit you high rapidly you can go through some basic things, you can eat them on an empty stomach or just simple, opt for beverages infused with cannabis and elude foods for a time.
Any usage of tinctures in certain edibles makes it sure the effect rises very soon. And the final thing, spiking up the metabolism will help you get the weed in the bloodstream much rapidly.
When you consume fatty food along with it, the effects of marijuana stay for a longer duration. And basically, consuming cannabis candies means that you would feel high for at least a shorter period.
How to make edibles that require lesser gap for consumption?
This is a unique tip for how to make edibles guidebook! There is no hard and fast way through which you can consume many edibles in the lesser time gap. Don't opt for another edible if you have eaten one and you are not feeling high!
What you can simply do is to wait for at least one or two hours, so that you can keep away all adverse side effects. Consume high fatty foods; instead, you will feel good!
Follow this excellent tip too, get some weed-free food for you if your craving gets high and afterwards eat marijuana edible, this would be the best solution!
How to make edibles that make way to your system quicker?
You cannot administer how rapidly it gets in your body as there are high chances you might have spoiled the dosage ratio. If you feel too much dizzy and high, have some pistachios to calm down the effects. Even the consumption of citric acid spikes up the blood sugar levels and neutralizes the effects of feeling high!
A lot of newbies have an unmatchable love for cannabis gummies. Cannabis gummies are quite easy to make, and it will take much lesser time to cook. But, for your good, make sure you don't consume too many cookies at once! These edible gummies are not just another sugar rush candies! There isn't any need for butter in weed gummies, so the usage of tinctures is also welcomed. Also, you can use oils such as hash oil for it.
Servings

Prep Time

2

servings

15

minutes
Cook Time

Passive Time

20

minutes

35

minutes
Servings

Prep Time

2

servings

15

minutes

Cook Time

Passive Time

20

minutes

35

minutes
A lot of newbies have an unmatchable love for cannabis gummies. Cannabis gummies are quite easy to make, and it will take much lesser time to cook. But, for your good, make sure you don't consume too many cookies at once! These edible gummies are not just another sugar rush candies! There isn't any need for butter in weed gummies, so the usage of tinctures is also welcomed. Also, you can use oils such as hash oil for it.

Servings

Prep Time

2

servings

15

minutes

Cook Time

Passive Time

20

minutes

35

minutes

Servings

Prep Time

2

servings

15

minutes

Cook Time

Passive Time

20

minutes

35

minutes
Take a medium saucepan and stream the water along with juices in it and keep it on medium to low heat and cook for 10 minutes.

After that, pour the tincture in it, whisk it gently.

Then, stream the gelatin in it and until the grains dissolve entirely, keep it whisking it.

Put the mixture in the baking trays and let it rest for 15 minutes and get cold.

Remove them from moulds and use granulated sugar to cover them up, it will prevent them from sticking or you can make them little sourer by adding some citric acid.
Take a medium saucepan and stream the water along with juices in it and keep it on medium to low heat and cook for 10 minutes.