Slow cooker corned beef recipe – Explore some of the rare facts about corned beef!
The slow cooker is the best way to cook your St. Patrick's Day's soulful meal! Slow cooker corned beef is also the most convenient and easiest dish to celebrate your St. Patrick's Day! When you opt for a slow cooker to cook your corned beef, it will turn out to be the most toothsome meal every time!
You might have been drooling over the alluring photos of festive slow cooker corned beef dishes and those stunning images literally light up your Instagram feeds; they are delicious enough to light up your St. Patrick's Day celebration! Well, you might have gone through several attempts to get your slow cooker corned beef recipe on point, right? Try this one recipe that I will share with you, and you'll swoon over it forever! However, there might be some of you who are oblivious to this festive dish; here is a complete overview of slow cooker corned beef so that you can try this fantastic recipe for your next big day!
What is corned beef?
Corned beef is basically a kind of salt-cured meat, which is prepared by soaking a brisket cut in a solution blend of sugar, salt and spices. This solution is called as brine. Normally the brisket part is used for making corned beef; the brisket is a tough part of the meat that is made soft after a salt filling cooking process of a long duration. Corned beef gets very soft, tender and can be effortlessly sliced after the brining process; thus, this it is most commonly used in sandwiches. This kind of meat is usually chopped in the long slices and kept besides the cabbage chunks, as it is quite common in Irish tradition. This interesting term "corned beef" came to light in the 17th century, and it was invented by the English.
Why do folks like to eat beef on St. Patrick's Day celebration?
This is one of the most common questions that are asked regarding St. Patrick's Day treat! The query was even entirely clarified by the Irish Central last year. The classic regal tradition of having a toothsome corned beef on St. Patrick's Day belongs to American culture. In the 19th century, beef was one of the richest foods among the cuisine landscape of Ireland and later on, ham or bacon become one of the St. Patrick's Day proteins for Irish folks. Corned beef is the most preferred dish for St, Patrick's Day celebration, so the slow cooker corned beef recipe that I am sharing with you guys holds a big excitement for you!
How do you store corned beef?
Yes, you can store the corned beef. You can keep the leftover crock corned beef in an airtight container in the refrigerator for 2 to 3 days. Usually, the corned beef would not last more than 2 to 3 days. You can even choose to store your cabbage with beef brisket in the freezer for several months.
What is corned beef made of?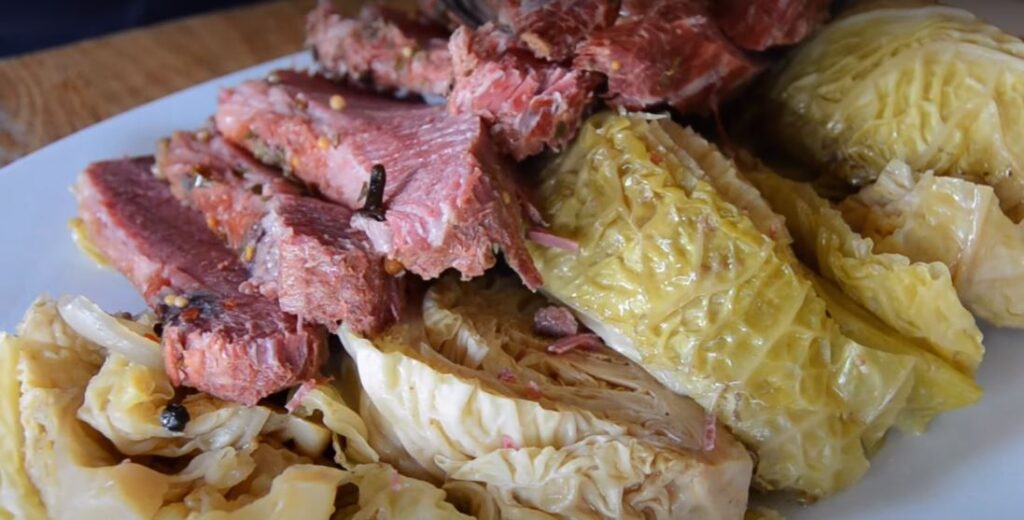 Corned beef is a beef brisket that is prepared with salt and seasonings. It is primarily soaked in brine, and afterwards, it is cured with different seasonings and salt. The specific cut of meat has a slight pink hint in appearance, usually a result of sodium nitrate. Corned beef can be cooked with numerous cuts that are available. Generally, I would suggest you cook the corned beef for a long duration if tender beef is what you are aiming for. There are some commonly preferred methods that can be used to cook corned beef, such as slow cooking, boiling or oven roasting the meat.
How do you buy corned beef?
The first and foremost important thing is to get a suitable type of beef for your recipe. You can even get a good quality pre-seasoned corned beef in some supermarkets. However, the tricky task is to pick the perfect cut of corned beef among all the options! There are distinct options such as flat cut brisket, corned beef round roast, and point cut brisket. The round roast contains a lesser amount of fat, and it has a lot more propensity towards getting dry as it is much low in fats.
Is It Good for You?
Well, it depends on you! We all know that corned beef is a go-to choice for your much loved St. Patrick's Day celebration but hold on, corned beef isn't one of the healthy meals for dinner. I would say that you should happily keep it restricted to your St. Patrick's Day celebration. Corned beef is abundant in vitamins like B12; however, it contains significant levels of fats, cholesterol and sodium. So, it is a big 'NO' if you are wondering if it is healthy!
Here are some unique tips for slow cooker corned beef
Cook the Meat for an Extended Period
Brisket cut is most commonly used to cook slow cooker corned beef. If you have ever cooked a brisket, you might have an idea that it is a tough cut of meat. So, it is pretty obvious that you cannot speed up the cooking process for corned beef. Corned beef usually requires a long cooking period to be transformed into soft, luscious meat. So, you should harness a good amount of patience to stand with a long cooking duration, as doing so will beautifully transform your tough beef cut to a softer one!
Avoid High Temperature Cooking
You should avoid high-temperatures for brisket cut. An extended cooking at a low temperature is the most suitable option to cook the corned beef; it does not matter what cooking method you prefer. A slight simmer in a slow cooker or even on the stovetop can be preferred to cook the corned beef, and you will end up with the most tender and soft beef.
Slice the Meat Correctly
Your corned beef recipe would be highly affected by the way you cut the beef! Different beef slices make a huge difference. You should always keep away from cutting the meat in grain direction.
Always Rinse the Meat before Cooking
You would end up with the saltier meat if you have a habit of cooking the meat without a proper rinse. It does not matter if you cured your meat or got a ready-to-cook corned beef; you should rinse it many times by keeping it under cold water; thus, any extra traces of salt would be eradicated. You don't have to wonder if the flavor would be altered as the inside of meat is already charged with the flavors.
Enough Water in the Pot
Corned beef will turn out very soft and tender if you simmer it on the stovetop, and this method is foolproof. The amount of water in the pot holds a great importance in a simmering process if you want your corned beef to be soft and luscious. When there's not ample of liquid to cover the meat, your corned beef will become firm and tough. So, you should start the recipe by filling up a large pot with enough water. Your corned beef should be wholly immersed in water. I would even advise you to keep checking the water level throughout the cooking process by removing the lid at constant intervals. If you get through this step with little patience, you would be able to taste the most tender and soft beef.
Passive Time

6 Hours

15 Minutes
Passive Time

6 Hours

15 Minutes
Take the corned beef and remove the extra fat. Rinse the beef thoroughly.

Pour the onions, potatoes, peppers, and garlic into the slow cooker at the bottom. Keep the corned beef brisket upon it.

Drizzle up some mustard seeds and add up the preferred seasoning blend.

Stream in the dark beer, and afterward, stream enough water so that the brisket would be completely submerged.

Add hot mustard, swirl a little and cover it up.

Cook it for six to seven hours at a high temperature. If you cook it on low, cook for 8-10 hours (The cooking time would be affected by the size of your brisket).

When the brisket gets considerably tender, take it out and keep it on a tray, pair it up with some potatoes. Cut the corned beef brisket in the opposite direction to the grain.
Nutrition Facts
Best Slow Cooker Corned Beef Recipe
Amount Per Serving
Calories 573
Calories from Fat 333
% Daily Value*
Total Fat 37g 57%
Cholesterol 197mg 66%
Sodium 3425mg 143%
Potassium 44mg 1%
Total Carbohydrates 5g 2%
Protein 50g 100%
* Percent Daily Values are based on a 2000 calorie diet.