Spinach artichoke recipe – Discover the unique tips with us to make your recipe much tasty!
The spinach artichoke dip is a tasty amalgamation of artichoke dips, vibrant spinach, and numerous types of cheese; everything is baked till the blend harness a lovely golden brown shade! Spinach artichoke can be the perfect party highlight delicacy that can be flaunted in front of your pals if you want a quick boost of admiration for your gourmet cooking skills!
As they have said, nobody can ever go wrong with rich, creamy dip! It doesn't matter which kind of dip you prefer, whether Mexican bean dip or soul-satisfying spinach dip. Since I tried this rich and creamy dip, I have fallen in love with it, and whenever I see some extra spinach, I never hesitate to go for this regal dip! Try the easy recipe of spinach artichoke dip that I have shared below, and you can even compromise your fancy restaurant-made dish!
Is the spinach artichoke dip recipe easy?
This dip is a real easy deal, and you'll just need some simple tips to shape into wholesome goodness, which will enchant everybody's heart! All you need for this classic creamy recipe is sour cream, cream cheese, marinated artichoke hearts, cooked spinach, parmesan cheese, minced garlic, mozzarella cheese, and aromatic herb seasonings. A simple thing you have to do is to blend your ingredients and roll them on a baking dish. In the end, the recipe just gets much rich with a splash of creamy cheese. After that, just bake your dip to the point it is completely melted and hot! Drizzle up a little hint of green vibrant upon it!
How long does spinach artichoke dip last in the fridge?
The properly cooked spinach artichoke dip will be alright in the fridge for the complete four days. I would suggest you reheat the pan covered and warm it up until it is wholly warm.
Can I make this dip ahead of time?
Yes, you can! When you want to save your time and energy, you can simply prepare this dip ahead of time and keep it in an airtight container. You can store it in your refrigerator. A properly stored dip will stay fresh for three days before baking.
How can I make this dip healthier?
Yes, you can create your no-fat and healthy version of spinach artichoke dip, but I tell you, nothing would be able to take the place of the creamy version, which is full of fat as it's just tasty on the next level. You can replace the mayonnaise with Greek yogurt and cut out those rich fats! Still, I would recommend you to include just 2% of fat yogurt to prevent the essential creaminess which is required to make your recipe bloom with richness! You can even prefer an enhanced ratio of veggies to make your dip more health-friendly!
How long will it keep after it's baked?
Yes, the leftovers of this recipe will stay fresh for up to 3 days in an air-tight container. By any chance, if you get lucky to have some leftovers, then simply store them in an airtight container in the refrigerator, and it will stay alright for a maximum of 3 days. Just reheat it at 350° in your oven when you want to eat it again, and then shift your dip to a baking dish. Drizzle up some shredded cheese on it if you want, and completely bake it until it is wholly warm.
Can spinach and artichoke dip be frozen?
Well, I won't suggest you freeze this creamy dip as we all very well; dairy products don't hold up well when frozen; dairy products tend to separate, so generally, freezing is avoided.
Is spinach artichoke dip gluten-free?
Spinach artichoke is just an exotic dose of creaminess, and it is tremendously delicious. However, you can keep it gluten-free if you want to; just make sure you use gluten-free ingredients in your recipe by checking their tags in the supermarket. Usually, some of the major gluten-filled ingredients are crackers and bread.
Can I make this with fresh spinach?
Yes, you can make this recipe from fresh spinach!
Why are there chunks of cream cheese in my cooked dip?
There are times when you dip your cracker into your dip, and the cracker just breaks apart! When your cream cheese isn't mixed well, it can create problems like this. So when you blend your cream cheese, simply make sure that you blend it wholly for two minutes so that such a problem would be avoided.
Can you reheat spinach artichoke dip?
Yes, you can reheat your spinach artichoke dip! Just keep your dip into the microwave and stir in between 30 seconds, microwave it till the point you get desired temperature.
Best side dishes for spinach artichoke dip
There are many options that you can consider if you want to decide on the perfect side dishes! Many people love to go with the simple hint of baguette, or you would even prefer your cherished chips. Also, if you are a health freak, you can go with healthy options like carrots and celery!
This spinach artichoke dip is worth your time and energy, and this dip is yummy that it can pair up easily with almost anything. You can bring on some favorite crackers or chips of your choice for the best taste. Some classic side dish options for spinach artichoke dip are breadsticks, tortilla chips, and pita bread.
Here are some side dish options if you want to keep it low-carb: The spinach artichoke dip on its own is a rich delicacy that would not require a tasty side dish. This dip on its own is a typical low carb dip that does not consist of many carbs, and it is a classic appetizer if you want to cut out your carbs consumption! If you want to maintain your recipe low carb, just chop some veggies and serve with it. A healthy, vibrant batch of chopped veggies pairs up well with spinach artichoke dip.
If you would like to keep your recipe gluten-free: When it comes to gluten-free recipes and options, there are numerous choices that you can make. You can pick your favorite gluten-free crackers to keep your recipe low in gluten. Gluten-free crackers are a good option to consider as they have a nice taste. You can serve it with your all-time favorite rice crackers or tortilla chips.
SOME AMAZING VARIATIONS FOR SPINACH ARTICHOKE DIP
This simple version of spinach artichoke dip is great on its own. However, you can add on some amazing versions and simply mixing some ingredients, and this will alter your recipe's flavor in the most phenomenal way to customize your recipe as per your desired flavor.
Meat: You can go on with your creativity and add on some meat chunks of your choice. The addition of shredded chicken is a great idea.
Vegetables: An extra addition of healthy and vibrant vegetables like carrots, mushrooms, and red bell peppers is never a bad deal for health!
Flavorings: You can spike up the flavor by adding numerous aromatic ingredients like chopped olives, sun-dried tomatoes, or fragrant herbs like basil to enhance the feel of richness.
SIMPLY GO THROUGH THESE TIPS TO GET YOUR DIP GAME ON POINT!
Just ensure that complete water is eradicated from your cooked spinach. Or simply wrap your spinach leaves within paper towels to eradicate the extra liquid.
Generally, whenever I make it, I prefer fresh cooked spinach to make this dip. Frozen spinach is another option; however, it can ruin the smooth finish of your recipe.
This spinach artichoke dip can be a real game-changer at your house party! This dip can please a large crowd, and everyone will go gaga over your cooking skills! Just try out this cheesy and creamy treat for this summer, and just bring on your favorite crackers or chips to have a superb treat!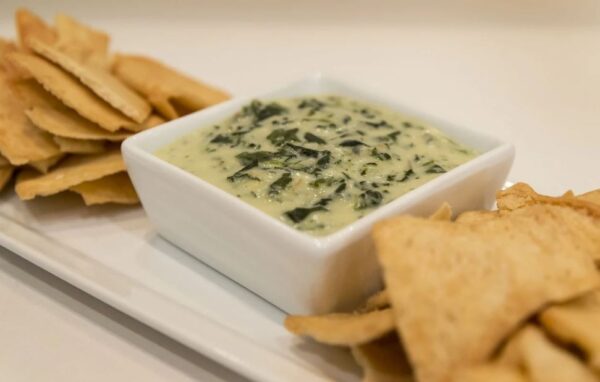 | | |
| --- | --- |
| | |
Get the oven ready by preheating it to 350 degrees. Get a baking dish ready and spray some nonstick cooking spray.

Except for 1/2 cup of the mozzarella cheese, combine all the ingredients in the mixing bowl.

Take a baking dish and roll out the combination in the bottom.

Drizzle up some leftover mozzarella cheese upon it.

Bake the dip till whole cheese is melted or for 25 minutes.

Serve your dip with your favorite side dish.
Nutrition Facts
Spinach Artichoke Dip Recipe
Amount Per Serving
Calories 130
Calories from Fat 81
% Daily Value*
Total Fat 9g 14%
Cholesterol 20mg 7%
Sodium 314mg 13%
Potassium 26mg 1%
Total Carbohydrates 5g 2%
Protein 8g 16%
* Percent Daily Values are based on a 2000 calorie diet.