Skip the sesame oil and replace them with these all together best sesame oil substitute.
Sesame oil substitute is better off for the people who want to have a difference in their taste. If you want to know the best sesame oil substitute, then it is perilla oil. This perilla oil is mostly used in Chinese and Korean dishes and somehow has a similar taste, flavour as well as smell like sesame oil. If you want to avoid
If you can't resist the smell and nutty flavour of the untoasted sesame oil, then the substitute for toasted sesame oil is olive oil. So if you are looking for another substitute for sesame oil, then we have plenty of options which can replace it, whatever your reason for substituting is you won't regret switching it.
So let us look into the sesame seed oil substitute.
Perilla oil- It is a seed oil with a nutty flavour, which makes it an excellent sesame oil substitute. It works great for frying and also brings out the flavour of toasted sesame oil.
Walnut oil- For making uncooked sauces and dressings you need the rich nutty flavour of the toasted sesame oil. Therefore if you want to replace it, then the best-toasted sesame oil substitute is the walnut oil. You can use this sesame oil substitute as a seasoning in the Asian dishes.
Olive oil- A great sesame oil substitute is what we can call olive oil as it also has healthy fats in it just like sesame oil. The extra virgin olive oil gives a nice strong flavour to the food just like toasted sesame oil. Even though the nutty flavour is absent, you still can use light olive oil as a replacement of the light sesame oil.
Also Read,
Canola oil- Due to its neutral taste canola oil can be replaced for lighter sesame oil and can be used for the purpose of deep-frying, frying, baking etc. This sesame oil substitute works best when you don't want the oil to contribute its distinct taste to the food itself.
Avocado oil- If you want a creamy avocado flavour to your food, then avocado oil can be used. But the problem with avocado oil is that it is not readily available in grocery stores which means you will have to source it. But everything becomes worth it when you add this to your food. Also, this sesame oil substitute can withstand high heat too, which is one of its significant advantages.
Tahini- It is a sesame seed paste which is used mostly in the middle eastern region. With a mild nutty flavour, you can add this in your recipes or can be spread on raw foods due to its creamy texture. The sesame oil substitute is many times used in the recipes when there's a crunch of the sesame oil.
Peanut oil- Peanut oil has the same health benefits, naturally nutty flavour and high heat tolerance. Even though it is mild in taste, it still can spice up any dish to it's best.
Roasted sesame seeds- If you don't have any of these above oils then you can make use of roasted sesame seeds too. Toast them on a pan or skillet till they are golden and fragrant. Sprinkle them on top of the food till you are satisfied with its taste. Using roasted sesame seeds as a sesame oil substitute works well when the recipe doesn't need an oil base into it and can be served dry.
Now that we have come to know about many of the sesame oil substitutes, let's look into some of the recipes which have these substitutes involved.
Chinese chicken with sesame dumplings
This recipe highlights the nuttiness of the toasted sesame seeds and brings out the flavour nicely. Toast the sesame seeds on a small pan or skillet till they are fragrant and then use after they have cooled down. Even when you use a sesame oil substitute in this dish, the flavour of this dish doesn't get affected even by an ounce.
Ingredients
CHICKEN
Three pounds (about six thighs) bone-in chicken thighs with skin
Freshly ground pepper
Kosher salt
One teaspoon canola or grapeseed oil
Four carrots, peeled and sliced 1/4-inch thick
Half stick (4 tablespoons) unsalted butter
Eight scallions, white and light-green sections cut into 1/4-inch thick rings and dark-green sections thinly sliced
Two tablespoons dry white wine
Two ribs celery sliced 1/4-inch thick
Four cups low-sodium chicken broth
One-fourth cup plus two tablespoons all-purpose flour
Two teaspoons soy sauce
One cup frozen green peas
Half teaspoon toasted sesame oil
Two tablespoons finely chopped cilantro
DUMPLINGS
One teaspoon kosher salt
Two cups flour
Two teaspoons toasted sesame oil
Half teaspoon baking soda
Three fourth cup of buttermilk
One egg
Half stick (4 tablespoons) unsalted butter, melted
Procedure-
Sprinkle salt and pepper over the chicken. On the other hand, pour some oil into a dutch oven until it is hot. Add half of the batch into the oil for at least 5 minutes till they are golden. Then remove them on a paper towel and remove the fat from the oil. Add the other batch into the oil and repeat the same procedure.
Keep the oven to preheat at 450 degrees F. Keep the dutch oven on medium heat and add butter to it. After the butter melts add celery, carrots, scallions and salt to it. Let the vegetables soften for about 5-6 minutes and stir them from time to time. Pour some wine into it and use a wooden spoon for deglazing it. Now mix the flour along with the soy sauce, broth, chicken and sesame oil. Let it cook for 45 minutes with its lid closed. After 45 minutes, add the peas to it and let it cook for 15 minutes more till the chicken is thoroughly cooked.
Mix the cornmeal, flour, baking soda and salt along with sesame seeds in it. Mix the buttermilk mixture into it and use a spatula for combining it. Scoop the mixture using two spoons on a parchment paper-lined baking sheet with a half-inch distance between them.
Let them bake for 15 minutes till they are golden and thoroughly baked.
Make use of tongs for transferring the chicken. Use a fork for shredding the chicken from the bones. Use a fat separator or flat spoon for removing the fats from the stew. Add the chicken once again to the pot along with soy sauce and sesame oil.
Pour the stew in bowls and add the dumplings on the top.
Garnish it with fresh cilantro.
Asian vegetable soup with dumplings-
This recipe is vegan and also healthy. It is quick and easy to make and serves as a great lunch, dinner and even an appetizer. If you have leftover dumplings and veggies, then this recipe is an excellent idea for using them. Also, the sesame oil substitute in this recipe is canola oil.
Ingredients
Vegetable soup-
One to two tablespoons canola oil
One tablespoon grated ginger
Two sticks celery chopped
Three minced garlic cloves
One carrot diced
8,8 oz smoked tofu cut into cubes
Half teaspoon chilli flakes
Salt and pepper to taste
One to two baby bok choy chopped
Four cups of vegetable broth
Two tablespoon soy sauce
One spiralized zucchini
Potstickers-
One to two tablespoon canola oil
Three-four tablespoon sesame seeds
Twelve homemade potstickers
Garnish-
Fresh parsley
Lime wedges
Procedure-
Add canola oil in a dutch oven and add the ginger along with garlic to it. After you saute it for 30 seconds, add the green onions, celery along with the tofu to it and stir for at least 3-4 minutes.
After 3-4 minutes now add in carrots, chilli, soy sauce and broth to it. Stir it and then cover the pot for 8-10 minutes. Now add the spiralized zucchini and bok choy to it. Let it simmer for 5 minutes. Add salt, pepper and chilli to it.
On the other hand, cook the potstickers.
Now heat some oil in a non-stick pan and dip the potsticker's bottom in oil and then in sesame seeds. Arrange them on a hot pan and pan-fry them till the bottoms get crispy. Sprinkle some water on it and cover for some time until they are steamed.
Pour the soup in the bowls and add the crispy potstickers on the top. Add sesame seeds, parsley and lime wedges on the top.
Pork Wontons with sesame sauce
Nothing tastes more heavenly than these moist and fluffy dumplings filled with the luscious stuffing. When you drizzle it up with some chile crisp, then that's the end of the discussion for sure. Also if you want to avoid some extra oil, then you can steam them too for better results. Here the sesame oil substitute is grapeseed oil.
Ingredients-
Wontons
One lb. ground pork
One tablespoon soy paste
One scallion, finely chopped
One tablespoon grapeseed or vegetable oil
One tablespoon toasted sesame oil
One teaspoon finely grated peeled ginger
One teaspoon kosher salt
One teaspoon rice wine
One-fourth teaspoon freshly ground white pepper
48 wonton wrappers
One large egg
Sesame Sauce and Assembly
Three tablespoons toasted sesame oil
Two tablespoon soy sauce
Three tablespoons Chinese toasted sesame paste or tahini
Two tablespoons unseasoned rice vinegar
One to two tablespoon chile crisp
One tablespoon sugar
Thinly sliced scallions (for serving)
Procedure-
Mix the pork, scallions, sesame oil, grapeseed oil, wine, ginger, salt, pepper, soy paste in a bowl and mix it thoroughly. Add a whole egg in the middle and carefully mix with a wooden spoon for at least 4 minutes. Let it chill for at least one or two hours by covering it.
Take some cold water in a small bowl. Take a wonton wrapper in the palm and scoop one tablespoon of pork mixture in it. Then dip a finger in the cold water and run it on the edges. Seal the edges tightly before folding the wrapper in half diagonally. Once again dip the thumb in the water and seal the two bottom sides by pinching them.
Repeat the procedure with other wontons.
For the sesame sauce and the assembly- Mix oil, soy sauce, vinegar, sugar, sesame paste in a small bowl and add some water spoon by spoon till the sauce drizzles. Also, add chile crisp depending on your taste.
Keep the water for boiling in a large pot and add a batch of wontons in the boiling water. Let it cook in the water for 3-4 minutes till they are cooked completely.
Remove them in a plate using a slotted spoon and add some reserved sauce on it. Garnish it with scallions and chile crisp if you want.
Sesame fried rice-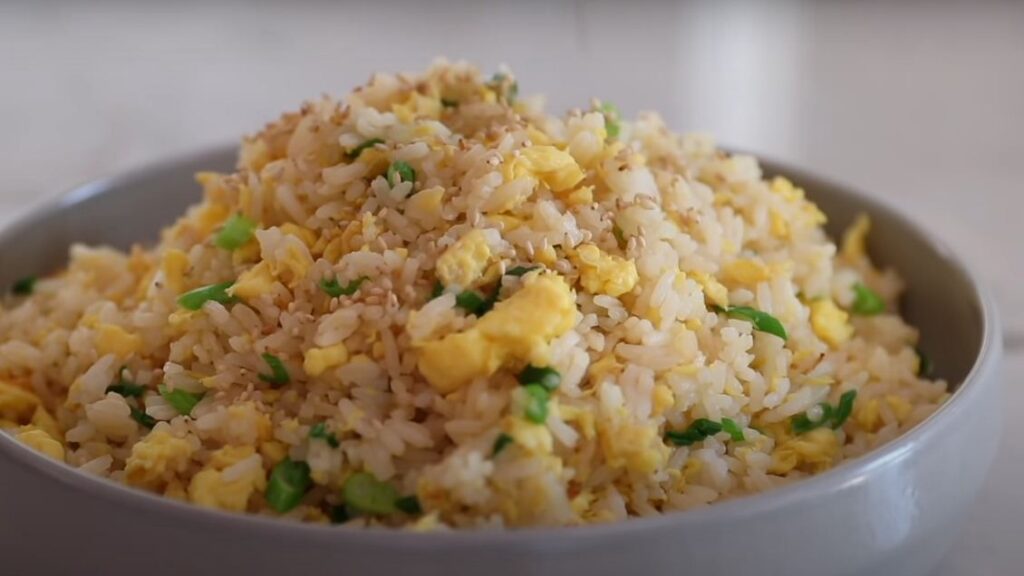 Well, fried rice is what everyone loves to have may it be for lunch, dinner or even potlucks. Honestly speaking, I love having it at any time of the day as it is quick and easy to make. So, of course, sesame fried rice lies on my favourite lunch menu. So in this dish, the sesame oil substitute is coconut oil, and you can also use toasted sesame seeds for a more nutty flavour.
Ingredients-
Eight ounces diced cooked pork loin
Two eggs lightly beaten
One tablespoon dark sesame oil
One cup chopped onion
One cup bean sprout
One-third cup chopped onion
Three green onions chopped
Four cups cooked short-grain brown rice
Half cup frozen peas, thawed
Two tablespoons toasted sesame seeds
One teaspoon salt
Four tablespoons butter
One fourth cup soy sauce
Half teaspoon black pepper
Coconut oil or wok oil, as needed
Procedure-
Add some sesame oil in the pork mixture and toss it well.
On the other hand, whisk two eggs and set them aside.
Pour some coconut oil in a wok and after it becomes hot, add an egg into it and swirl it around so the runny portion is in motion and it is set. After it sets, flip it and let it cook for some time. Then remove the omelette in a plate and chop it into pieces.
Pour some oil into the wok and add carrots along with pork to it. Now add the rice to it and season it with salt and pepper along with sesame seeds. Continue to cook the rice until it is hot.
Add the omelette along with soy sauce to it and serve hot on a platter.
Sesame noodles-
It just takes 15 minutes to make this recipe either warm or cold. You can add some extra veggies and proteins to it for a power-packed lunch. The sesame oil substitute used here is canola oil.
Ingredients-
One pound of uncooked pasta
Two tablespoons rice vinegar
One fourth cup soy sauce
Half teaspoon garlic powder
Half teaspoon chilli garlic sauce
Half cup thinly sliced green onions
One teaspoon ground ginger
Toasted sesame seeds for garnish
Procedure-
Cook the pasta in a large pot of water following the instructions on the packaging.
On the other hand whisk rice vinegar, sesame oil, chilli garlic sauce, black pepper and garlic powder and ground ginger together.
After the pasta is cooked drain it and toss it immediately with the sauce and green onions.
You can serve it hot or cold, depending on your taste.
Sesame noodles with broccoli and chicken
Preparation time- 10 minutes
Cooking time- 30 minutes
Total time- 40 minutes
Number of servings- 8
Cuisine- Asian
Course- Main
These noodles have an original nutty flavour to it all thanks to the toasted sesame seeds and have the goodness of the luscious green broccoli along with the juicy chicken pieces. In this recipe, the sesame oil substitute is vegetable oil.
Ingredients-
Eight ounces whole wheat spaghetti noodles
Three tablespoons soy sauce
Two tablespoons sugar
One fourth cup vegetable oil
Two tablespoons rice vinegar
One and a half cups fresh or frozen broccoli
Three cloves minced garlic
One tablespoon sesame seeds
One and a half cups cooked, diced chicken breast
Procedure-
Cook the pasta according to the instructions given on the packaging.
On the other hand toast the sesame seeds in a small saucepan over medium heat. Keep stirring it till it turns light brown.
In a small bowl mix soy sauce, sugar and vinegar together.
Now pour some vegetable oil in the skillet and add broccoli along with garlic to it. Let it cook on medium heat till it is cooked through.
Add the chicken to it and let it heat through.
Add the boiled noodles, soy sauce mixture and mix well.
Sprinkle sesame seeds on top.
Recipe Notes- You can replace the chicken with diced tofu or garbanzo beans.
Hummus with sesame oil
Traditionally it can be made with tahini. Tahini is a sesame oil substitute, and it gives a strong taste to it, which is disliked by children. The mild bitter taste makes it non-approachable by many. But adding sesame oil to it provides a creamy texture.
Ingredients-
One (15-ounce) can chickpeas (or garbanzo beans, rinsed, drained and towel-dried)
Two tablespoons olive oil
Two tablespoons lemon juice
Half teaspoon cumin
Two cloves garlic crushed
One-fourth teaspoon black pepper
Half teaspoon salt
Two to three tablespoons water (warm)
Three tablespoons sesame oil
Procedure-
Add the chickpeas, olive oil and lemon juice in a food processor. Then add cumin, garlic, black pepper, salt, along with sesame oil and water.
Blend it smoothly in a food processor until it is creamy.
If it is too dry, then add water to it.
Serve it in a large bowl with pita bread and fresh vegetables.
Easy Sesame Chicken-
Super crispy batter and a delicious sesame sauce make this sesame chicken extra special. And the advantage is this chicken gets ready within 30 minutes. We are making a traditional version in this recipe, and the sesame oil substitute in this recipe is canola oil.
Ingredients-
One fourth cup soy sauce
One fourth cup rice vinegar
Half cup brown sugar
One-third cup of water
One tablespoon corn starch
Half tablespoon sesame seeds
Two teaspoons sesame oil
Half cup cornstarch
Two egg whites
Half cup flour
Half cup cold seltzer water
Two teaspoons sesame oil
One lb chicken thighs boneless and skinless cut into 1? chunks
One-fourth teaspoon crushed red pepper
vegetable oil for deep frying
One tablespoon minced garlic
Procedure-
For making the sauce mix soy sauce, brown sugar, rice vinegar, water, sesame oil, corn starch and sesame seeds.
On the other hand, make the tempura batter by mixing corn starch, flour, seltzer water and egg whites.
Dip the chicken pieces in the batter and fry them in batches till they are golden brown.
Pour some oil in a wok and add garlic along with red pepper flakes in it.
Now add the sauce mixture into the wok and coat it thoroughly.
Serve it on a platter and garnish it with sesame seeds.
We hope you liked all the sesame oil substitute recipes which we have shown in this blog. And we would like to see you trying these sesame oil substitute recipes at home. Till then keep cooking and don't forget to post your pictures when you try these recipes. Comment down in the section below regarding your views and opinions about our blog.
You will entirely fall in love with an authentic nutty flavor, which this recipe holds, and the whole credit goes to those crunchy toasted sesame seeds! The wholesome goodness of the delicious green broccoli paired with moist, luscious chicken pieces is the super combo that bursts with heavenly taste. In this recipe, you can even substitute the vegetable oil for sesame oil in the recipe.
| | |
| --- | --- |
| | |
Follow the instructions given on the packaging and cook the pasta as per the instructions.

Additionally, take a small saucepan and toast some sesame seeds over medium heat. Stir it until the seeds take up the brown colour.

Take a small bowl and blend sugar, soy sauce, and vinegar, mix well.

Take the skillet and stream some vegetable oil in it, also pour the broccoli along with garlic in the skillet. Cook it on the medium heat flame, let it get cooked thoroughly.

Afterward, add up the chicken and keep it to heat up slightly.

Pour the soy sauce mixture along with boiled noodles and blend it well.

Drizzle up some sesame seeds on it.
You can use diced tofu or garbanzo beans to replace chicken.
Nutrition Facts
Sesame noodles with broccoli and chicken(sesame oil substitute)
Amount Per Serving
Calories 63
Calories from Fat 9
% Daily Value*
Total Fat 1g 2%
Sodium 380mg 16%
Potassium 32mg 1%
Total Carbohydrates 12g 4%
Protein 2g 4%
* Percent Daily Values are based on a 2000 calorie diet.