Pressure cooker chicken and rice – Perks of cooking chicken and rice in the pressure cooker!
Pressure cooker chicken and rice is such an amazing treat on weekdays after tiring day! You'll love this one-pot recipe of pressure cooker chicken and rice! Chicken and rice can be cooked in a pressure cooker within few minutes! Here is the straight, simple, and delicious recipe for pressure cooker chicken and rice!
You can experience the vibes of Asian magic in this classic recipe of pressure cooker chicken and rice; it is such an amazing one-pot meal. If you haven't tried the chicken and rice recipe in a pressure cooker, try it this summer as its quite easy to make and makes a great way for a delicious weekday meal with much less cooking time. The lovely army of savory ingredients makes your simple chicken and rice weekday dinner much more interesting! This dish is an ideal option for a weekday meal and simple meal preps.
CHICKEN AND RICE IN PRESSURE COOKER IS THE ABSOLUTE TREAT!
I was always fascinated with trying the usual weekday recipes in my all-new pressure cooker, and chicken and rice were one of those recipes! When I tried this recipe for the first time, it turned out very well, even without much hard work! I desperately wanted to share my special recipe of pressure cooker chicken and rice with you all as I love it! I can prefer a soulful one-pot meal anytime over a fancy time-consuming meal course on weekdays, and you too, you just need to taste the deliciousness and easiness of this hearty pressure cooker chicken and rice recipe! This recipe was one of my most loved recipes among all pressure cooker meals, and I became even closer with my versatile pressure cooker as it's a real savior on difficult days!
Pressure cooker rice tastes amazing and different as it has a great even texture and stickiness! Along with the tender chicken, your rice tastes much more amazing! This pressure cooker recipe will become a thing of heart as it's very simple yet gives you the feel of a fancy, tasty meal which has been cooked for hours! If you wonder if the pressure-cooked chicken and rice has the same taste as the chicken and rice recipe cooked in a traditional cooker, then I tell you, a pressure-cooked chicken and rice will taste tremendously delicious! You don't have to worry about mushiness and blandness, as your rice will be steamy and fluffy! 
You can make various aromatic and savory seasonings like oregano, paprika, garlic, thyme, onion powder, salt and cayenne pepper a part of your recipe to give a quick flip over your usual chicken and rice recipe.
Here are some perks and benefits of cooking chicken and rice in a pressure cooker:
The simple thing you have to do in the pressure cooker chicken and rice recipe is to drizzle up the aromatic ingredients in your recipe and sauté them, afterward layer up everything, that's it you can sit and wait for tasty dish! You might think that a pressure cooker also takes up time to release the natural pressure, but you would be able to sit and chat with your buddies instead of staying in the kitchen all the time! So, the pressure cooker is the best idea for chicken and rice recipe.
Pressure cooker chicken and rice is the hearty, one-pot meal, and you don't need to indulge in much guesswork to get your yummy weekday dinner on the table!
It requires very little prep.
Cooking chicken and rice becomes very easy with a pressure cooker as the cooking time is decreased by half amount! Also, you don't have to stand in front of the stovetop all the time to check if everything is alright! The reduced cooking time is the biggest perk of opting for a pressure cooker chicken and rice recipe instead of the traditional one.
There is no need for browning
You know that almost all chicken and rice recipes have a browning process, and you need to brown the meat before preceding cooking. When you opt for a traditional stovetop to cook your chicken and rice recipe, it will require you to brown the meat so all the juices and moisture will be retained, and meat will burst with flavor. However, there is a different scenario in the pressure cooker chicken and rice recipe as the pressure cooker automatically raises the boiling point of liquid in the pot. The cooking process will be rapidly fastened as the extra-heat will speed it up, and it also enhances the automatic caramelization and browning, but in a little distinct way! Your meat would be automatically browned in water without oil. With a pressure cooker, your recipe will have an intense and tasty flavor.
Can I add vegetables to my chicken and rice recipe?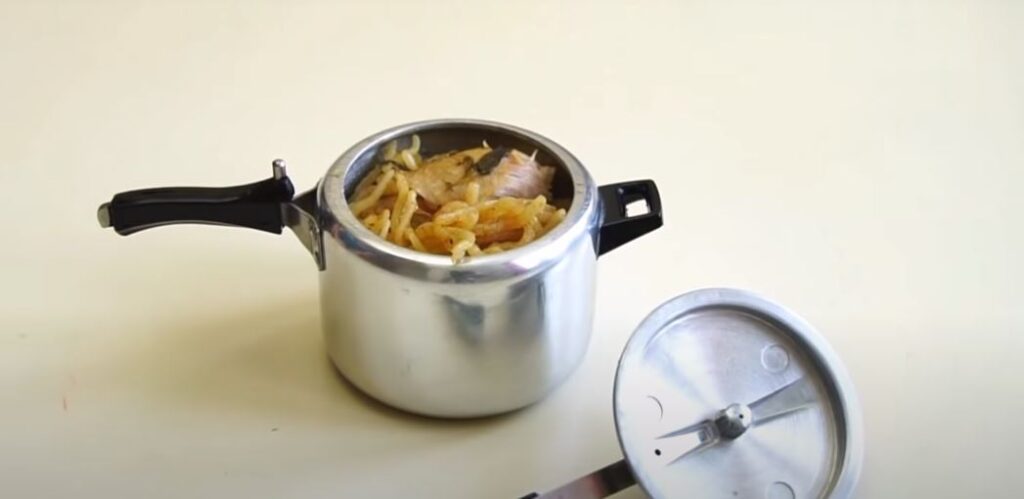 Yes, you can add vegetables to your pressure cooker chicken and rice recipe. However, if you are using frozen vegetables, you can thaw them prior to using them in the recipe.
How long does it take to cook chicken in a pressure cooker?
The whole recipe of pressure cooker chicken and rice will never take much time. Generally, pieces with no bones take ten to fifteen minutes in the pressure cooker. Chicken with bones takes more time in a pressure cooker even if you cook it in other appliances. Usually, bone-in meat will take extra 30 minutes in a pressure cooker to become tender.
Does meat get more tender the longer you pressure cook it?
The pressure cooker makes all cuts of meat very soft and tender. When it comes to tenderizing the chicken, pressure cooked wins the race! A high-pressure environment is naturally created inside a pressure cooker, and the meat becomes fall–of–bone tender! So, we can say that meat can get tender in a pressure cooker without cooking it for longer hours.
How long does it take to cook chicken in a pressure cooker?
Generally, the pressure cooker doesn't take more than 15 minutes to tenderize the chicken. The pressure cooker will normally take ten minutes to cook fresh chicken and to come to a pressure. It will take twelve to fifteen minutes to cook frozen chicken in pressure cooker. You can opt for a natural pressure release when cooking time is up.
| | |
| --- | --- |
| | |
Take a pressure cooker and heat some oil in it over a medium heat flame. Afterward, pour some bay leaves, black cardamoms, green cardamom, cloves, and cinnamon stick. Cook up the complete spices until the aromatic fragrance rises or for 1-2 minutes.

Pour raw onion paste and cook it for about two or three minutes. Your paste of onions might have some amount of moisture in it. Cook it until all the water of onion paste is evaporated and the bad smell is eradicated.

Pour paste of ginger and garlic. Cook the paste for few minutes. After that, pour the pieces of chicken. Coat them well and mix well. Pour coriander powder, turmeric powder, garam masala powder, black pepper powder, and salt. Blend it well and keep cooking it for two to three minutes.

After that, pour the brown rice, and mix it well. Cook the brown rice for two minutes. Mix and add carrot chunks with French beans, and cook carrot chunks for at least 1 minute.

Drizzle up some water in the cooker. You should always make sure that water should be enough to cover up the rice and double the amount of rice.

Apply the lid and keep a high flame to pressure cook.

Decrease the flame to medium-low after the first whistle, and after that, cook it for extra few minutes.

Turn off the flame after the second whistle. Opt for a natural pressure release and then give quick pressure release to eradicate the remaining pressure. Afterward, open the lid very gently. Stir it carefully.

Serve the chicken and rice along with a vibrant salad.
Nutrition Facts
Pressure Cooker Chicken and Rice
Amount Per Serving
Calories 435
Calories from Fat 189
% Daily Value*
Total Fat 21g 32%
Cholesterol 54mg 18%
Sodium 1336mg 56%
Potassium 333mg 10%
Total Carbohydrates 42g 14%
Protein 22g 44%
* Percent Daily Values are based on a 2000 calorie diet.