How to make orange chicken – Try this very unique and exotic orange chicken recipe!
Baked orange chicken can win anyone's heart within just a few minutes, and it can be prepared in simply 30 minutes; what can be the better idea than such an easy yet lip-smacking treat? Baked orange chicken is full of tanginess and deliciousness, and you'll love it too! You should try out my easy and exotic baked orange chicken recipe!
Baked orange chicken is an easy treat as it will nullify the most complicated part that many other orange chicken recipes include, i.e. deep-frying! Many people who often ask about 'how to make orange chicken?' find that deep frying makes the whole orange chicken game much complicated! Interestingly, many people don't have much admiration for deep frying as it is much complicated and creates a lot of mess; also, it takes too much time! The baked orange chicken will simplify your doubt 'How to make orange chicken?' and you'll get to know the easiest and simplest solution on 'how to make orange chicken?', so explore us till the end!
This simple orange chicken recipe is very tasty and uncomplicated; you can prepare this quick, and this orange chicken tastes even better than the restaurant made fancy orange chicken! Additionally, the baked orange chicken version is much healthier than the basic mess or hassle. In order to prepare this, all you need to do is to toss the bite-sized chicken chunks in the simple breading, and then they are baked and broiled to the point they harness a lovely crisp, and afterwards, it is coated in the tangiest, a toothsome and finger-licking blend of orange sauce.
This recipe has wonderful different layers of flavours and aromas such as tanginess of orange juice and orange marmalade, also, an intense sour hint of lemon juice with many other lip-smacking ingredients thus it creates unforgettable memories for you. The multiple different flavours get amalgamated together to create the crispiest and luscious chicken for you! You can bring on other rice side dishes to form a complete orange chicken meal!
Also Read,
What is orange chicken? (How to make orange chicken)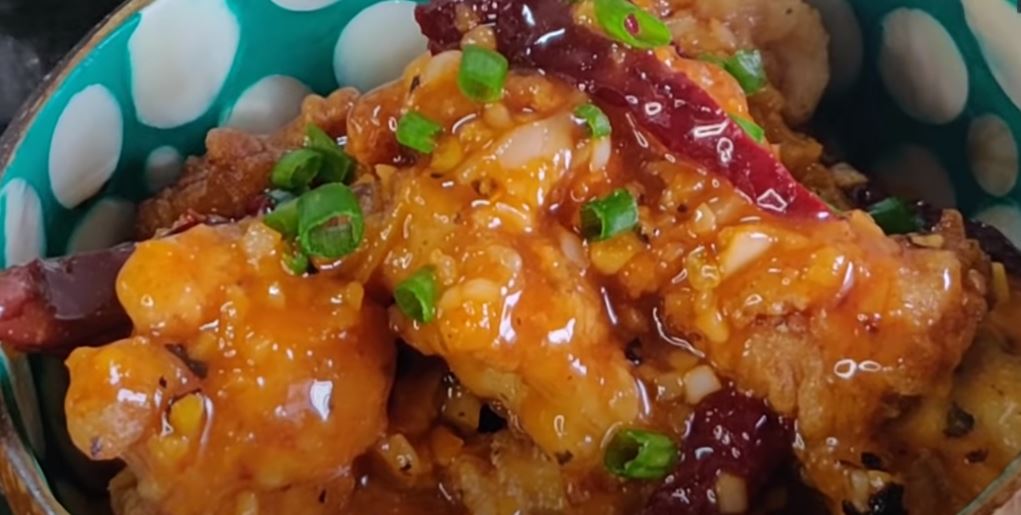 Orange Chicken is a very famous chicken delicacy that belongs to American-Chinese cuisine, and baked orange chicken is one of many exotic variants. The bite-sized chicken chunks are baked and then coated with sweet-sour, thick, and savoury orange sauce. Interestingly, the orange chicken looks very spicy; however, it is not as spicy as it looks.
This orange chicken recipe will be in perfect line with your taste buds if you are a fan of soulful, crunchy and tangy starters like crispy chicken. This baked orange chicken will remind you of the crispy fried chicken, but this one is baked and comes with a very little mess so that you can have easy fun on your weekends!
What is the taste of orange chicken?
First of all, I would like to tell you all that baked orange chicken is a paradise-like treat and has a lip-smacking taste! The real taste of orange chicken lies somewhat between a bar of sweet and sour flavour, and it has an intense hint of tanginess. I remember, when I first time ordered the orange chicken at a restaurant it was a really disappointing experience as it was full of very sour hints and I couldn't even enjoy the light traces of citrus flavours evoked out of oranges! So, I wanted to keep my baked orange chicken out of this blunder.
Well, orange juice is the prime base of any orange chicken recipe, and it evokes an authentic orange tint in your recipe, however orange juice on its own cannot create an intensely strong sweet, sour vibe for the recipe, so the next most essential star ingredient is orange marmalade, which will purely kick up all the sweet-sour vibes and wonderful citrus aura. Additionally, a splash of lemon juice boosts all the existing citrus flavours, and it increases the tanginess of these flavours without intimidating them! 
Can I use store-bought orange juice instead of squeezing my own?
Yes, you can use it! You can even use pure orange juice. The recommended quantity is ½ cup or 120ml. You can use fresh orange juice with or without pulp!
Can I make it gluten-free?
Yes, of course! You can create an absolutely gluten-free version of orange chicken. Just replace soy sauce with gluten-free soy sauce. Also, I would like to suggest you using dark tamari instead of thin tamari sauce. Additionally, using gluten-free flour in place of plain flour is also a good idea.
Can I make it ahead?
You, you can prepare your orange chicken ahead of time! This recipe will even work amazing when it is prepared ahead of time and when it is served with proper side dishes. However, I would like to tell you that the chilling and thawing process can remove its crispiness. You can even prepare its sauce ahead of time to ease up your preparations. You can cover it up afterwards and refrigerate it for two days.
Can it be frozen?
Yes, it can be frozen! You can allow it to cool down, cover and freeze. Simply thaw the chicken prior to reheating it. You can reheat your orange chicken in the oven or the microwave. But keep one thing in mind, the chicken won't be as crispy as the fresh version! However, you can still freeze it to make good use of your leftovers.
Is orange chicken spicy?
As compared to fried chicken, baked orange chicken is not much spicy! However, it looks very spicy savoury but is it covered in the intense tangy and sweet-sour flavours. Orange chicken is wholly coated in the orange-brown shaded glaze, which is due to orange sauce. It has a little hint of sweetness and a savoury vibe. Baked orange chicken is not as spicy as it looks; the dark orange and brown shades arise out of the heavily used orange sauce.
Is orange chicken good for your diet?
Orange chicken can be considered good for diet as it is low in fat and has abundant protein in it. Orange chicken is a good idea to include more chicken in your diet. Protein is needed to burn the extra fat and to create muscles.
What is an orange chicken sauce made of?
The orange sauce is truly the tastiest and lip-smacking sauce, which shaped the whole orange chicken recipe. The sweet-sour orange sauce is prepared with sugar, vinegar, orange juice, garlic, ginger, soy sauce, red chilli flakes, and orange zest. The sauce is full of sweet and spicy flavour hints.
Why is orange chicken so good?
Orange chicken is not tasty but is very healthy! The dark chicken, which is used in orange chicken, is healthier than the usual old white meat chicken. Dark meat contains more flavour than the usual white meat. So, your orange chicken is going to have a more intense flavour than a classic white chicken recipe.
| | |
| --- | --- |
| | |
Make the oven ready by preheating it to 450°F. Get a foil and line a baking sheet with it, and grease it a little by using a cooking spray.

Chop the chicken breasts and make 1-inch chunks.

Get a sealable plastic bag and add flour in it, and then pour the chicken, afterwards seal the bag. Keep shaking the bag to the point chicken gets coated wholly.

Take a shallow dish and add the eggs in it and keep whisking until it is combined well. Pour the breadcrumbs into a second shallow dish.

Take out every piece of chicken from the bag, get rid of the extra flour and then immerse it into eggs and afterwards breadcrumbs. Keep it on the prepared baking sheet.

Keep repeating the same process for all chicken pieces. Arrange all the pieces into a single layer on the baking sheet.

Keep baking the chicken pieces for twenty to twenty-five minutes. Flip them once amid the recipe. Bake them to the point they harness lovely golden brown shade. Make the sauce while the chicken is getting baked.
Take a small saucepot, pour sesame oil and olive oil into it and keep it on medium-low heat.

Add the ginger and garlic into it and cook.

Stir it to the point it becomes golden shaded or for 3 minutes. Mix orange marmalade, crushed red pepper flakes, hoisin sauce, soy sauce into it. Stir it for 5 minutes.

Take out the chicken pieces from the oven. Take a large bowl and shift them to it.

Pour the sauce into the bowl and keep tossing it until it is combined well. Serve the dish.
Nutrition Facts
How to Make Orange Chicken (Baked)
Amount Per Serving
Calories 566
Calories from Fat 45
% Daily Value*
Total Fat 5g 8%
Sodium 630mg 26%
Potassium 146mg 4%
Total Carbohydrates 126g 42%
Protein 10g 20%
* Percent Daily Values are based on a 2000 calorie diet.