How to make coconut milk with a refreshing and energizing flavour!
I have always been trying to share some exciting recipes with tender coconut. When there is coconut in the scenario, we readily get amazed by the dainty soulful vibe of coconut milk! How to make coconut milk at home from scratch is the common question asked many – since I am one of those who like to experiment quite a lot with heavenly coconut, this recipe guide will tell you how to make coconut milk easily at home, explore till the end, you will be more amazed as I am going to tell you how to make coconut milk delightful recipes easily at home!
I have shared the step by step solutions that will tell you how to make coconut milk, whether from a fresh coconut or with other forms of coconut! And if you have been craving for an ice cream but want to keep dairy at bay, you will get to know how to make coconut ice cream for the vegan jamborees! So stay here!
This post was in a queue from so many months. I was so confused and wondering what I would be writing to solve to such a simple and basic query like how to make coconut milk, the basic recipe that guides you how to make coconut milk is quite simple, I have been using the easiest version of coconut milk for my cooking.
HOW TO MAKE COCONUT MILK – HOMEMADE DELIGHTFUL TREAT!
Whenever I make prepare coconut milk, I always use fresh coconut for it. Apart from traditional coconut milk recipes, some people might get confused about how to milk make coconut milk for classic South Indian curry recipes and payasams, as I have come across this query many times! Do you know? You can even make a banana milkshake with thin coconut milk.
The coconut milkshakes are energizing and refreshing. And those who were striving to know, how to make coconut milk yoghurt, or how to make coconut milk curry, here are the perfect recipes for you!
We're about to get creative with indulging sultry varieties while learning how to make coconut milk at home, along with many other recipes!
THE HEALTH BENEFITS OF COCONUT MILK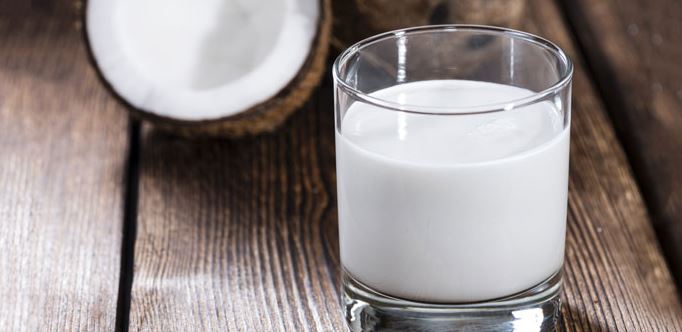 Before beginning our journey into the recipe guide, just take a deep dive into the beautiful real benefits of coconut milk! Explore its numerous nutritional properties, including its fat, protein, calorie, and carbohydrate amount, plus top recipe suggestions.
NUTRITIONAL HIGHLIGHTS
The flesh of the coconut is tremendously nutritious and abundant in fiber. Coconut milk is lactose-free, unlike cow's milk so it can also be considered as a good substitute option for all lactose-intolerant people.
Coconut milk is a most cherished choice for vegans, and it also acts as a good base for smoothies, milkshakes.
Coconuts milk is one of those foods whose qualities can seem to fluctuate between the 'healthy' food and 'unhealthy' food groups. The lower-fat variety of coconut milk can be used in moderation (1-2 times per week).
HOW-TO MAKE COCONUT MILK YOGURT
Some recipes just turn to be much tasty when the traditional yoghurt is substituted by coconut milk yoghurt! So if you want to know how to make coconut milk yoghurt at home, explore the simple recipe!
INGREDIENTS
Coconut milk – 4 cups
Sweetener – 1 tablespoon
Yoghurt starter or probiotic powder
Thickener – optional
Instructions:
Heat the coconut milk and sweetener, bring them to a light boil and take out from the heat. Allow the liquid to cool to 115º F, in a glass bowl. Dissolve the thickener in another bowl while the coconut milk is getting cold, use the necessary method. (If you are using gelatin, a small amount of cold water, if using 'agar agar', make use of hot water and so on.) Add the thickener once it is fully dissolved to the warm coconut milk. Stir it to blend well.
Add the yoghurt starter, after the coconut milk reaches 115ºF, stir well to blend. Take a very clean glass jar with a tight-fitting lid, and pour the mixture into cover it and keep in an oven that just has the light on, the door is closed, and for extra insulation, the towel is wrapped around the jars of yoghurt. I have made a set of proofing on my oven that lets me set it to 100ºF, and it works correctly. You can also get a cooler filled with hot water, on a heating pad of low temperature, keep jars of yoghurt on it – you are maintaining it approximately 105ºF – 115ºF for the whole time.
For at least 8 hours, allow it to culture, but you can also culture it much longer, I find that the flavour gets best when you have cultured it for 16-24 hours. I love it when my yoghurt is tangy. This recipe might have to go through the trails of trial and error to get it perfect.
At this point, this will be relatively thin. After it is all ready, cover it tightly and store it in the fridge for at least 6 hours. This prevents the fermentation; it will get thicker as it is getting cold, even if you haven't added any thickener, it will be additionally thicker if you have put extra thickener of some kind.
HOW TO MAKE COCONUT MILK ICE CREAM – CHOCOLATE FLAVOUR
This ice cream is tremendously natural to make, you can easily prepare it at your home just by using the simple ingredients, and as it does not last longer in the freezer, we can say that it's a lovely thing, as you get a chance to finish this whole lovely treat quickly!
Using only a handful of ingredients, we have used the coconut milk as the base in this chocolate coconut milk cream recipe along with some handy ingredients, for those of you who were looking for a light gourmet desert treat, this chocolate ice cream will be the best thing for you, as many folks like to avoid the authentic dairy version. You will end up with the most incredible yummy taste, and yes, while keeping your digestion in a happy mode!
What's more interesting is the fact that you won't need an ice cream maker for this chocolate ice cream.
INGREDIENTS:
Can full-fat coconut milk – 1-14 oz.
Cocoa powder – 1/4 cup + 2 tablespoons
Honey (or maple syrup, for vegans) – 1/4 cup
Vanilla extract – 1 teaspoon
INSTRUCTIONS:
Take a blender and combine all ingredients, and blend it well until it becomes smooth, uniform and creamy. (Initially, I attempted to whisk them in a bowl, but later I found out that blender was much more productive!)
Feel free to make alterations and change the flavour as per your taste, then shift to a freezer-safe container. Keep it in the freezer until it becomes firm for 5 to 6 hours. (You can also use an ice-cream maker, which helps to freeze ice cream in 25 minutes. Just go through the directions given by manufacturer).
Thaw the ice cream for 15-20 minutes at room temperature prior serving, if your ice cream gets too hard and firm.
HOW TO MAKE COCONUT MILK FOR APPAM – SWEET COCONUT MILK
Appam is a south Indian dish, popularly known as Kayi halau in Kannada. It probably tastes much yummier than any other coconut milk recipes, just like other light recipes, this recipe also calls for coconut milk to evoke a refreshing blissful flavour, don't freak out, I will tell you how to make coconut milk for appam! So let's explore how to make coconut milk for an aromatic and tasty appam!
INGREDIENTS
Fresh shredded coconut – 200 grams
Jaggery – ½ cup
A pinch of salt
Cardamom, powdered – 4
INSTRUCTIONS
Let's discover how to make coconut milk that will make your appam highly aromatic –
You can also use a half-sized coconut for this recipe that will be about 150-200 grams. Extract all the coconut meat from the coconut and keep it in a blender/mixer and pour 1 cup water. Run the blender and make a smooth paste. You will get strained milk which can be called as the first milk or thick milk. Again, keep the strained coconut bits in the blender along with 1 cup of water and run the blender for a minute. And this will be your thin milk or second milk. Keep it aside.
Take the cardamom and take out the inner black seeds. By using the inner black seeds, make a powder in a mortar and pestle. Keep it aside.
Get half a cup of jaggery and mix one cup of water with it. Pour the cardamom powder in it along with the green layer of the cardamom. Set a medium flame stove and keep on it. Allow the jaggery to melt wholly. Take it out from the stove and remove the impurities of the jaggery by a strain.
Add in the jaggery water to a pan, a dash of salt and thin coconut milk' second extract. Use a very low flame to heat it for 2 minutes, bring to a slight boil. Turn down the heat flame.
Afterwards, mix the thick coconut milk' first extract and blend it well. Serve the coconut milk along with your favourite appam.
HOW TO MAKE COCONUT MILK ICE CREAM – COMPLETELY VEGAN RECIPE
This Vegan Coconut Milk Ice Cream is rich, creamy, and completely vegan. This yummy delightful treat is full of refreshing coconut. This coconut ice cream can be easily made, takes much lesser time and almost nobody can get ever spoil this simple recipe!
For the past few years, I have gone through the most common issue about dairy foods that folks deal with; many try to keep a dairy at bay due to absorption issues that are caused by soy and dairy sensitivity, even I look out for ways to dodge the dairy and soy due to protein sensitivity.
Initially, I had to cope up with my temptation to shun the dairy, but when I discovered a healthy alternative of dairy-free foods, I effortlessly gave up all the hard temptations. Trust me, having the numerous great non-dairy alternatives to real dairy foods just feels like pure bliss to your heart. And from many years, coconut has been one of my favourite dairy alternatives.
INGREDIENTS
Maple syrup – 1/2 Cup
Salt – 1/4 teaspoon
Vanilla extract – 2 teaspoons
Can lite coconut milk – 1-15 ounce
Can full-fat coconut milk – 1-15 ounce
Cornstarch – 2 tablespoons
INSTRUCTIONS
Take two coconut milk cans and shake intensely, and take a small bowl, pour 1/2 cup of the lite coconut milk in it. Take a medium saucepan, stream the leftover lite coconut milk, maple syrup, the full-fat coconut milk, and salt onto it, keep it over medium heat flame.
Simultaneously, whisk the cornstarch and reserved coconut milk together. Keep it aside.
Give a low simmer to the coconut milk; make sure you don't boil it. Pour the cornstarch mixture, and heat it about 10 minutes until it gets thick and bubbly. Take out from the heat, and add up some vanilla extract.
Take a heat-proof container and shift the ice cream base in it and refrigerate t for four hours until cold. Follow the manufacturer's instructions, and shake the ice cream maker. Shift it to a freezer-safe container and freeze it for an hour, until completely solid.
HOW TO MAKE COCONUT MILK FROM DRY COCONUT
Also Read,
This recipe is straightforward to do, even though you spent many hours wondering about how to make coconut milk from desiccated coconut, you will get through it! The simple ingredients that you will need for this recipe are a blender, a sieve, dried coconut, water, and some cheesecloth!
INGREDIENTS
Hot water – 4 cups
Dried unsweetened shredded coconut – 1 cup
INSTRUCTIONS
Put coconut and pour hot water in a blender.
To soften out the shredded coconut, let it sit for at least 10 minutes.
Whisk it for some minutes.
Take a large bowl and place a cloth-lined sieve. Stream the mixture gently into a sieve.
Squeeze out as much as you can and extract all the milk as possible by gathering all the edges together.
Get glass jars or bottles and stream the coconut milk in it and keep it in the refrigerator for four-five days. Uncoupling of the milk from the fat happens quite rapidly and quite normal. To combine the two, shake jar robustly.
Use it for substituting canned coconut in recipes.
Freeze the pulp to utilize it in other recipes such as oatmeal, granola, store it in the refrigerator.
HOW TO MAKE COCONUT MILK HOT CHOCOLATE
A warm cosy hot chocolate cup is what you need on the cold chilling evenings of winter. As the season begins to drop, and the winter jumps in, we all know this is the hot chocolate's season. The cold shivers of blissful winter nights coupled with this hot chocolate will make the season much more enjoyable! To make you winter more delightful, I am sharing how to make coconut milk hot chocolate.
INGREDIENTS
Unsweetened coconut milk – 4 cups
Unsweetened dark cocoa powder – 1/4 cup
Granulated sugar (maintain the sweetness as per your need) – ¼ cup
Ground cinnamon – 1/4 teaspoon
INSTRUCTIONS
Take a saucepan and warm coconut milk on the medium-low heat flame.
Combine all remaining ingredients thoroughly by whisking. Keep cooking until they get warm throughout.
Top it with some fresh whipped cream along with a dash of cinnamon.
HOW TO MAKE COCONUT MILK HOT TEA:
One of the most common things we all like to have while relaxing is a cup of hot tea. You might have drunk it with fresh goat's milk! So, if you haven't tried this recipe of coconut milk tea, you will be amazed by how soothing and pleasing this cup of hot tea is!
INGREDIENTS
Ginger – 1 piece.
Pepper – 1/2 teaspoon.
Cinnamon – 1 stick.
Turmeric powder – 1 pinch.
Honey – 1 tablespoon.
Coconut milk – 1/2 cup.
INSTRUCTIONS
Get ginger, pepper, cinnamon and pestle, crush them all.
Take a tea container and boil water in it and pour the crushed mixture, honey, turmeric powder, boil it for 3 minutes. Pour the coconut milk and once again, oil boil and stream it into a cup.
Now, your warm coconut milk hot teacup is all ready to serve.
HOW TO MAKE COCONUT MILK VEGETARIAN CURRY
All my vegan dearies, try out this simple, tasty and easy vegetable curry made with coconut milk, even though I am hardcore meat lover, I love this soulfully delicious vegetarian coconut milk curry, it is one of my weekend brunch favourites. The healthy dose of veggies and spices is merged up with the coconut milk that evokes a creamy touch. You can serve this curry with a bed of rice or quinoa.
This vegetable coconut milk curry is wholly gluten-free, soy-free, vegan, and nut-free recipe that all keto lovers would undoubtedly love to have on their dinner table.
If you are not much into vegan curries, wait and have a bit of this vegan curry, this dish is truly mouth-watering. I bet you would surely make it again for your happy hours. This vegetable coconut milk curry is quite beautiful to look at; its allure is full of vibrant vibes of colours and tasty veggies. It's up to, line up a dinner, brunch or lunch with it; you taste buds will be tremendously happy!
INGREDIENTS
Coconut oil – 1 tablespoon
Onion, finely chopped – ¼ cup
Garlic cloves – 2, finely chopped
Ají Amarillo paste – 1 teaspoon
Ginger, finely chopped – 1-inch piece
Curry powder – 1 tablespoon
Carrot – 1 (peeled and sliced)
Sweet potato (or yam) – 1 (peeled and cut in chunks)
String beans – 1 cup
Broccolini – 1 cup
Salt and pepper – for taste
Coconut milk – 1 can (13.5 oz)
Shaved almonds – 2 tablespoons
Cilantro, chopped – 2 tablespoons
Cooked brown rice (optional as a side dish)
INSTRUCTIONS
Take a pan and heat coconut oil over medium heat. Sautee the garlic and onion, stir for 3 minutes. Pour the ginger, chilli paste, and curry powder; stir it for few seconds and pour the vegetables. Sprinkle some salt and pepper, and again mix it.
Pour the coconut milk, boil it lightly, cover it and cook it for an additional 15 minutes, the cooking time depends upon how well you would like your veggies to be cooked.
Turn down the heat flame and sprinkle up some almonds and cilantro.
Serve some brown rice as a side dish with it if you like.
HOW TO MAKE COCONUT MILK EGGNOG – DAIRY FREE EGGNOG RECIPE!
This Coconut Milk Eggnog is completely dairy-free than the original recipe! This Dairy-Free Eggnog recipe is not just a solution for dairy allergy, but any person can enjoy it as a delightful weekend beverage!
This Vegan Eggnog recipe has coconut milk in it.
INGREDIENTS
Cinnamon ½ teaspoon
Vanilla extract – 1 teaspoon
Bourbon – 2-4 tablespoons
Canned coconut milk not light – 4 cups
Egg yolks – 4
Maple syrup – 1/4 cup
Freshly grated nutmeg – 1 teaspoon
INSTRUCTIONS
Blend the maple syrup and egg yolks in a blender until you get a fluffy uniform blend.
Take coconut milk, nutmeg and cinnamon and heat them on medium-high heat flame, until simmering, but make sure not to boil it.
Turn the blender on low once it is heated enough and in the hole in the top of the mixer, stream in the hot coconut milk very gently, into the egg mixture. Alternatively, while mixing with a handheld mixture, smoothly stream in the heated coconut milk.
Shift the mixture to the saucepan again and heat it on medium heat flame until you get a thick mixture that is thick enough to coat up a wooden spoon, stir and whisk it constantly.
Turn down the heat flame and pour the bourbon if you are using it.
Chill it thoroughly and serve.
Go this very easy recipe that tells you how to make coconut milk from fresh coconuts, just by using simple handy ingredients. Try it, you would not like miss out this delightful, aromatic treat!
Servings

Prep Time

4

people

20

minutes
Cook Time

Passive Time

0

minutes

20

minutes
Servings

Prep Time

4

people

20

minutes

Cook Time

Passive Time

0

minutes

20

minutes
Go this very easy recipe that tells you how to make coconut milk from fresh coconuts, just by using simple handy ingredients. Try it, you would not like miss out this delightful, aromatic treat!

Servings

Prep Time

4

people

20

minutes

Cook Time

Passive Time

0

minutes

20

minutes

Servings

Prep Time

4

people

20

minutes

Cook Time

Passive Time

0

minutes

20

minutes
Take a jar of your blender in add coconut flesh, coconut water and 1 cup water.

For 5 to 10 minutes, beat it on the fastest possible speed; try to get the most out of that coconut flesh as you possibly can. As the flesh spins around, you will notice that after a while, will turn more freely. You should look out for some liquid in there.

When you feel you have extracted all of your coconuts, line a fine-mesh sieve with cheesecloth, shift the contents of your blender to it.

Pour another half cup of water in the jar of your blender and just to beat whole last bits that were left behind, give it a quick spin. Add up that remaining extra dash of a fragrant pile of coconut.

Now squeeze the whole out of your coconut, Squeeze intensely until you extract all of the whole coconuts. And then you will have a bunch of dry, dehydrated, shredded coconut which will be pretty flavourless and tasteless. Unless you don't find any other way too use it out, just discard it.

Take an airtight glass jar or container and pour your beautiful coconut milk into it, and keep it in the refrigerator for up to 5 days.
Nutrition Facts
HOW TO MAKE COCONUT MILK - HOMEMADE COCONUT MILK FROM FRESH COCONUT
Amount Per Serving
Calories 463
Calories from Fat 252
% Daily Value*
Total Fat 28g 43%
Sodium 16mg 1%
Potassium 129mg 4%
Total Carbohydrates 51g 17%
Protein 7g 14%
* Percent Daily Values are based on a 2000 calorie diet.