Gastón Acurio's Classic ceviche recipe – Discover this tangy seafood delight!
Ceviche is a very soulful delicacy from South America. It is often spelled as ceviche or cebiche. This soulfully tasty dish is a delicious amalgamation of raw fish and seafood coated in a tangy, mainly lime, citrus juice, and lemon juice. Citrus juice is full of acids that help to solidify the proteins in the fish, so the cooking gets much more effortless, and it does not need to be heated; you can serve it either at room temperature or cold.
This flagship dish of Peru is prepared with numerous tasty fishes and shellfishes, so you should give a shot at this exotic seafood recipe by Gastón Acurio, a world-class chef who is greatly known for his unique approach towards cooking and traditional cuisines! This delicacy could be eaten as a main dish or simple appetizer; it all depends on what sides you will serve with this dish! Though, there are many ideal side dishes that could be paired with classic ceviche. Before we start with this traditional delight of Peru, let's have a deep dive into the life of the original creator of the spectacular recipe that I am going to share with you all, Gastón Acurio!
Gastón Acurio Jaramillo is a Peruvian chef, born October 30 in the year 1967. He is also an ambassador of Peruvian cuisine. This world-class chef owns numerous restaurants in many regions; even he is an author of many famous cookbooks. He also hosts a television program in Peru. Till now, Gaston has contributed in many famous culinary cookbooks and magazines.
Gastón Acurio is a popular name in the culinary field as he is also one of the essential promoters of Peruvian cuisines across the world. His father is Gastón Acurio Velarde, a reputed politician of the Acción Popular party, and Gastón Acurio Jaramillo is his only son. Apart from this, this chef has four older sisters. He was hoping to walk on the footsteps of his father and wanted to get succeed in his political career, so he pursued a law course at the Pontifical Catholic University in Peru. He has pursued his cooking studies at Le Cordon Bleu in Paris. Interestingly, this was the place where he first met his spouse, Astrid Gutsche. His wife originally belongs to Germany.
Also Read,
In 1994, He again returned to Peru after gaining an excellent knowledge of international cuisine and successfully executed that knowledge to spark up Peruvian cuisines. This amazingly resulted in the remarkable evolution of the Cocina Novoandina. At present, Acurio is still known as one of the most important chefs across the world. He lives with his wife and his two lovely daughters.
In 1994, when Gastón Acurio completed his cooking studies at Le Cordon Bleu, in Paris, he started his venture named Astrid & Gastón, a restaurant. Till now, he has gained an excellent reputation for his precious contributions in cooking and culinary arts. Also, he was featured in a famous magazine named América Económica in the year 2005, when he was named as a Business Man of the Year.
When Gastón Acurio began his career, all he craved was a simple life and that's why he started his own venture, this single restaurant, so that he could execute all his cooking expertise and get creative with his inborn passion for culinary arts. After opening his restaurant, he started exploring all his cooking arts with his family and friends. At that time, he never thought that he could emerge as an ambassador of Peruvian gastronomy. Gastón has, again and again, showed that the cooking field is a very creative art that even needs an indulgence of soul and heart in it, not just a plain body!
When he returned to Peru, along with his wife, he started his first venture in Lima. At that timeframe, Peruvian cuisines were highly cherished and were a thing of heart across the whole country. Later on, he realized that the key to success was never to mimic the European cuisines but to save and preserve the authenticity of Peruvian cuisines and to give justice to Peru's traditions. Later on, he started exploring the uniqueness of traditional Peruvian flavors that resulted in the evolution of the cuisine cultures and landscape of the country. So, he made a creative menu entirely driven by the country's prime traditional highlights of cuisines and implemented all that creativity in his restaurant named Astrid y Gastón.
Here are some great tips and suggestions he would like to give to budding chefs; also, explore the most exciting stories of his cooking career and from his professional workplace!
What's his best advice for today's modern-day and budding chefs?
He says, "Chefs bring on the ultimate happiness; chefs are not stars."
What was the best advice that you have ever received?
His best advice was, "A person should relax one day at a time."
What is the common mistake that chefs of the modern age make?
He said, "Most chefs believe they are the most ideal and their food is always on point, though it is not, any chef could do much better, always!"
Why Gaston is very much involved in educating the budding and modern-day chef of Peru?
His university had this big dream to get all leaders worldwide, all-ready and well-versed, amid a desert situated near Lima. He said they have an idea in their mind of training many young kids who have a passion for cooking and those who think that they can change people's lives with cooking! He believes that whatever be the profession of chef's, in whatever field they want to be, he and his team is always there for budding chefs so that they can expand their magic, creativity and have numerous tales to show-off in their professional field. As he has observed many chefs and budding chefs of Peru and their exotic cuisines for many years, he cherishes this program.
What does he like about the budding and young modern-day chefs? Are budding chefs of Peru much different in their approach towards cooking than older generation?
Gastón Acurio, along with his team, has worked hard to fulfill their dream of making Peruvian food one of the most popular cuisines across the globe! The time has come to fulfill their time, so some things are much more comfortable for young chefs, and on another side, they are much complicated. Today's young chefs have a relatively better environment than what he had when he became chef, he believes. Nowadays, Peruvian food is much popular across the world, and so, there are much more expectations that the world holds from Peruvian cuisines. Gaston strongly feels that today's young chefs should tell better stories to the world than what the chefs of his generation did when they were beginners, and this will maintain the rank of Peruvian cuisines around the globe.
What would he do if he once again becomes a young chef?
He was once asked this question, to which Gaston replied, "There are many crucial things that he would like to do, but one thing is particular, I'll spend much more time with my daughters instead of spending my precious hours in the kitchen. As he has lost many precious moments of the childhood with his beautiful daughters, he would like to spend more time with them, which he missed when he was consummating his obsession for cooking.
What are his ongoing projects that have started since 2015?
Currently, he is working on his cookbook named, '500 recipes of Peruvian food'. Gaston has some interesting ventures like, the new restaurant in September, in Paris. At present, he is looking out for a place in London where they can open a ceviche restaurant. Also, he is looking forward to opening a classic casual burger spot in Peru, which will be organic and Peruvian rotisserie chicken in Peru.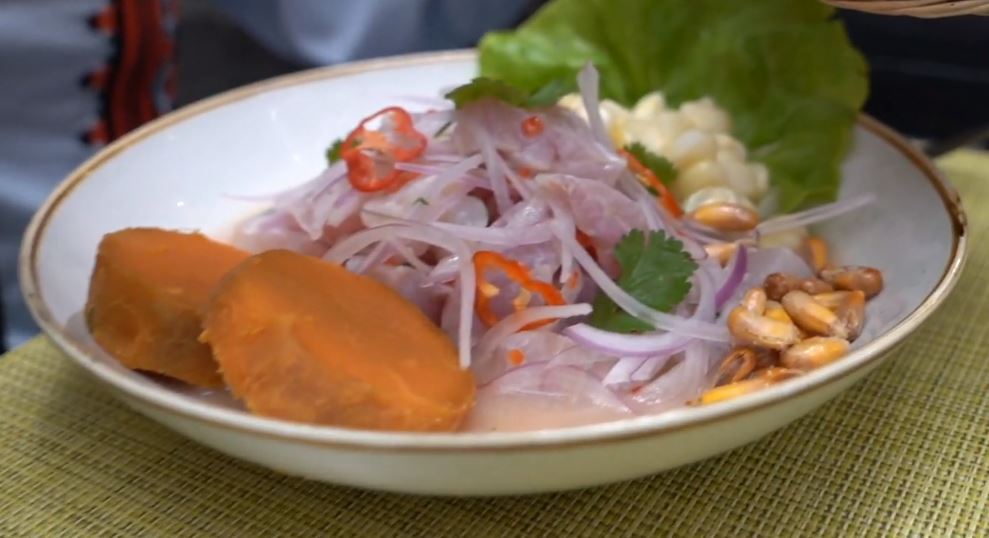 Ceviche is one of the most exotic and star highlight dishes of Peru. Explore the best recipe of Ceviche by Gastón Acurio; you'll feel blessed after having such a soulful seafood delicacy by one of the most expert chefs of the world!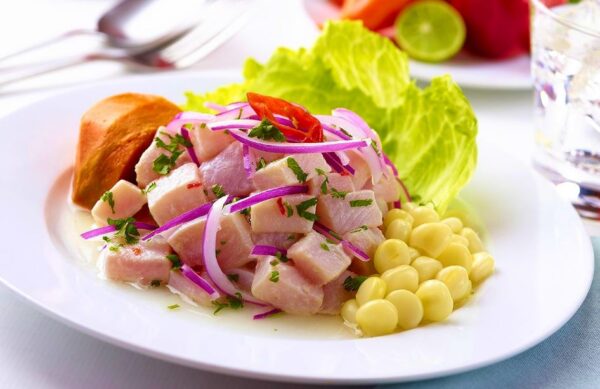 | | |
| --- | --- |
| | |
Make ¾-inch cubes of fish by cutting pieces finely, and keep those pieces in a bowl. Take salt, pepper, and season pieces with it. Add the chile and garlic, after just one minute. Mix everything nicely.

Sprinkle some lemon juice upon the fish, and afterward drizzle up some chopped cilantro leaves along with ice cubes in it. Stir it for few seconds and give it a rest for few seconds.

After that, mix the red onions with it, and take out the ice cubes. Mix everything, taste, and adjust the seasonings as per your needs.

Take a large shallow bowl and serve cooked corn kernels along with some slices of boiled sweet potato.
Nutrition Facts
CLASSIC CEVICHE RECIPE (Recipe courtesy - Gastón Acurio)
Amount Per Serving
Calories 38
Calories from Fat 18
% Daily Value*
Total Fat 2g 3%
Cholesterol 17mg 6%
Sodium 15mg 1%
Potassium 96mg 3%
Total Carbohydrates 0.05g 0%
Protein 5g 10%
* Percent Daily Values are based on a 2000 calorie diet.