Black pepper sauce is something that goes well with rice, meats, potatoes, and much more. Who would have thought that these tiny black pearls could unfold such a drastic taste in a dish and make it taste so decadent? Well, if you haven't tasted this black pepper sauce before then, it was your bad luck. But it's never too late, right?
There are many ways of making this black pepper sauce. But its recipe changes according to the food you are serving it with. So let's look into the black pepper sauce recipes.
Peppercorn sauce
It is a culinary sauce made with cream and peppercorns. Pink, white or black peppercorn can be used for making this sauce. But mostly black pepper or white pepper is used. It is a sort of black pepper sauce too.
Ingredients-
Four tablespoon double cream
Three tablespoon black peppercorns, in brine, drained
Two large shallots, finely chopped
200ml good-quality beef stock
Procedure-
Add the butter in a large frying pan and add the shallots along with the peppercorns into it for 5 minutes on medium heat. Pour the brandy into the pan after the shallots have softened and are reduced till it is completely dry.
Now add the wine into it and boil it on high till it reduces to half. Then add the stock and let it reduce again to two-thirds. Add the cream and mix well.
Serve it with your favorite steak but before adjusting the seasonings.
Peppercorn sauce without cream
This peppercorn sauce is speedy and easy. Also, you don't need to have cream for this recipe, and you can make use of milk or any other ingredients in your fridge so that you can make it anytime quickly.
Ingredients-
Four teaspoon black peppercorns – varies according to your taste
Procedure-
Use a pestle and mortar for cracking the peppercorns. But don't over grind it, or else the sauce will lose the intense flavor.
Melt the butter on low heat in a small pan.
After the butter melts, add the flour to it and mix it quite well with butter. After it is mixed well, a thick paste will be formed.
Cook this minute for a few minutes so that the flour is cooked thoroughly, and you will not get a floury taste after you serve the sauce.
Now add the brandy to it and let it cook.
Add the milk slowly to it and break the lumps using a wooden spoon or whisk.
After the mixture has been incorporated well add the chicken stock to it.
Add the peppercorns and salt.
Simmer on low till you get the required consistency.
Steak with creamy black pepper sauce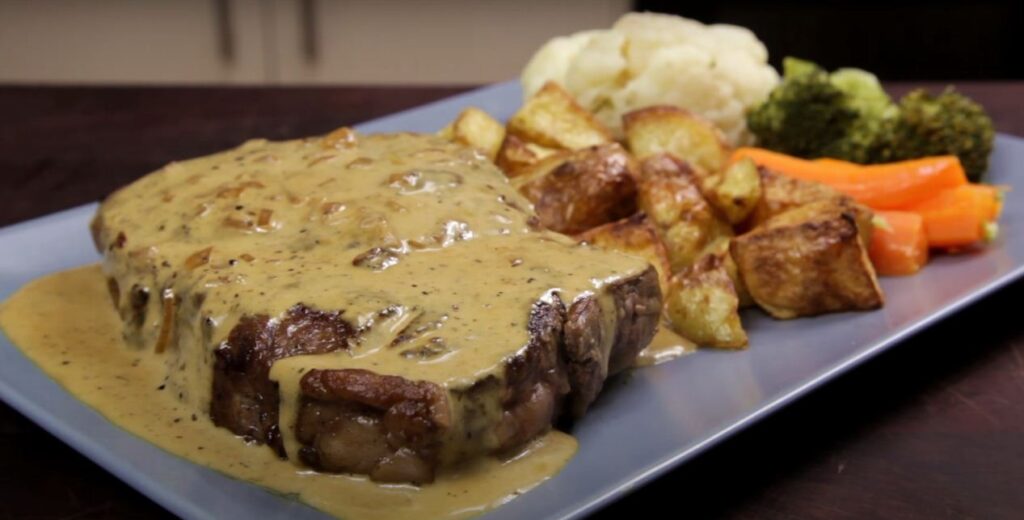 This is one of the most preferred steak sauces, which is creamy and has brandy, cognac, cream, beef broth, and lots of crushed peppercorns in it. This black pepper sauce just works exceptionally well with the steak, and you won't regret making it for sure.
Ingredients-
Two 300g Porterhouse steaks
One tablespoon vegetable oil
Sauce
One third cup brandy or cognac
Two to three teaspoon coarsely crushed whole black peppercorns
Half cup cream, heavy/thickened
Three fourth cup beef broth/stock, low sodium
Procedure-
Remove the steak from the refrigerator half an hour before you start cooking.
Season both sides with salt and pepper.
Add oil in a skillet and heat it till it starts smoking.
Make the steak in a skillet on both sides for 2 minutes each until the steak gets a crust.
Use the tongs for cooking the fat strip too.
Remove it on a plate and cover it with aluminum foil.
For the sauce, add brandy into the same skillet and cook it on high and scrape the sides with a wooden spoon.
Cook for one minute till the smell of the alcohol disappears.
Now add the broth to it and let it simmer for 3-4 minutes till it gets reduced to half.
Reduce the heat to medium and add the cream along with pepper to it after it simmers for 2-3 minutes.
Adjust the seasonings.
Add the steaks to the serving plate and add the black pepper sauce over it.
Serve with mashed potato.
Black pepper-garlic sauce
A dish you can make for family get-togethers and even family dinners. And guess what you won't have to put in some extra efforts too. Just some of this black pepper sauce and roast meat, and you surely feel in heaven.
Ingredients-
One large onion sliced thinly
two tablespoons olive oil
5-7 cloves freshly minced garlic
One teaspoon Crushed Black Peppercorns
Two tablespoons Worcestershire Sauce
Cornflour one tablespoon + Water one cup mixed
Two tablespoons soy sauce
Three-four button mushrooms sliced thinly
Procedure-
Add olive oil to a pan and add sliced onion to it. Saute it for 2 minutes and add the chopped garlic to it. After the garlic turns golden, add the sliced mushrooms and saute it.
Then add soya sauce, brown sugar, Worcestershire sauce, and crushed black peppercorn into it. Mix well.
For thickening it, pour the cornflour mixture into it.
The thick black pepper sauce with garlic is ready to serve.
Add on pork chops/ roasted chicken and serve.
Simple garlic and black pepper sauce
It is a sort of a pasta sauce that is simple and is not too rich. It is low in fat and is flavorful. It has no butter in it yet can be a good substitute when you don't need dry pasta.
Ingredients-
One and a half cups 2% milk
Two tablespoons minced garlic
One teaspoon ground black pepper
Procedure-
Over medium-low heat add olive oil in a pan and add garlic to it. Let it saute for at least 1-2 minutes then add milk, pepper, and salt for flavor. Mix and let it simmer for 2 minutes.
Mix Cornstarch and water and make its slurry. Add to the sauce and stir it so that it thickens to the proper consistency.
Chinese chicken with black pepper sauce
A great dish if you wish to have Chinese cuisine for dinner. The crispy Chinese chicken with the spicy yet authentic black pepper sauce just makes the dish taste divine.
Ingredients-
One lb boneless chicken thighs
Six tablespoons cornstarch
One cup frozen peas and carrot
One fourth cup oyster sauce
One teaspoon black pepper
One teaspoon dark soy sauce
Half teaspoon white pepper
Procedure-
Mix the ingredients of the sauce in a bowl and set aside.
Cut the chicken pieces of one-fourth inch each.
Heat oil in a wok.
Dust the chicken pieces in corn starch and remove the excess.
Fry the pieces into the oil till they are golden brown.
Now add oil in a wok and add the onions to stir-fry along with carrots and peas.
Pour the sauce along with chicken pieces to the wok.
Serve the Chinese chicken with black pepper sauce along with steamed rice.
Volcanic black pepper sauce with grilled mushrooms-
Prep Time: 16-20 minutes
Cook time: 16-20 minutes
Serve: 4
Level Of Cooking: Easy
Taste: Spicy
Cuisine- Main
How do grilled mushrooms mix with black pepper sauce sound to you? For me, it sounds interesting. This black pepper sauce just bursts out in your mouth with flavors, and you surely can't ignore it with the grilled mushrooms.
Ingredients-
Three medium onions sliced
One-fourth cup black peppercorns
Thirty cloves garlic chopped
Oil three fourth cup
Three fourth cup oyster sauce
One and a half cups tomato sauce
Four one-inch garlic pieces
Vinegar 1/2 cup +
Sugar 5 teaspoons
Three and a half teaspoons salt
Three tablespoons dark soya sauce
Eight medium button mushrooms
One tablespoon lemon juice
Procedure
In a mixer, add the roasted black peppercorns for crushing them.
Add oil in a pan and add onions to it. Saute it for 1 minute and add the ginger along with garlic to it. Then add the peppercorns to it and saute for 2 minutes.
Mix the oyster sauce and ketchup. Pour the vinegar, dark soy sauce, salt along with sugar to it.
Heat the grill pan and string the mushrooms onto a toothpick. Season it with lemon juice and salt.
Grind the sauce mixture and pour it into a bowl. Add some water over the mushrooms and let it cook.
Add some sauce into the pan and toss it well.
Recipe notes- While grilling the mushrooms, make sure that you don't grill the mushrooms a long time before adding it to the sauce, it will become soggy.
Chinese beef in black pepper sauce
This Chinese dish is found in Hong Kong mostly and is quite liked by many. The addition of honey to the beef coats it well and provides a lovely sticky sauce.
Ingredients-
Half red pepper, sliced
One red onion
Two garlic cloves chopped
500g steak, sirloin, fillet rib eye or rump
Five spring onions, sliced into 1-inch pieces
Three tablespoons of walnut oil, vegetable oil or sunflower oil
THE SAUCE
Two tablespoons coarse ground black pepper
3 tbsp light soy sauce
Three tablespoon honey
50ml water
Two tablespoon oyster sauce
One and a half tablespoon Chinese rice wine or sherry
Procedure-
Take all the sauce ingredients in a bowl and mix them well.
Take the beef and cut them into equal strips.
Add oil in a wok and let it heat till it is smoking hot.
After the oil becomes smoking, hot add the beef strips into it and flash fry for 4-5 minutes.
Now clean the pan and do the same with veggies.
Once again, clean the pan and add the sauce to it. Let it cook in it till the gravy becomes sticky like caramel.
Add the flash-fried beef into it along with veggies and stir it till it is mixed well.
Serve it with steamed rice.
Chicken chop with black pepper sauce
When you have delicious grilled tender chicken on your plate, will you be able to resist it? I cannot, for sure! This dish has creamy, bold black pepper sauce over it, which gives it a lot of flavors. But for that tender meat, you need to use the drumsticks and thighs.
Ingredients-
Four pieces of boneless, skinless chicken thighs
Two teaspoon Worcestershire sauce
Two teaspoon soy sauce
Two teaspoons brown sugar
One tablespoon ketchup
For black pepper sauce
One teaspoon soy sauce
One teaspoon brown sugar
One teaspoon Worcestershire sauce
One fourth teaspoon salt
One teaspoon cornstarch
Half teaspoon ground black pepper
For chicken chop-
Two teaspoon olive oil
Half small onion chopped
Two cloves of garlic chopped
One tablespoon butter
Procedure-
For making the marinade add the soy sauce, ketchup, brown sugar, Worcestershire sauce in a small bowl.
Add the marinade over the chicken and rub it over the chicken thighs.
Keep the marinated chicken into the refrigerator overnight.
Grill or saute the chicken for about 2 minutes on medium-high heat till it is cooked thoroughly.
Now, mix the soy sauce, brown sugar, salt, ground black pepper, Worcestershire sauce, and Cornstarch in a small bowl.
Add butter and olive oil in a pan over medium heat.
Then add the garlic along with the onion. And saute it till it is translucent and golden.
After the onion is golden, add the black pepper mixture to it and mix well.
Add the chicken to a serving plate and then pour the black pepper sauce over it.
Roasted veggies with black pepper sauce
Veggies don't always taste bad, especially when they are roasted and served with the delicious black pepper sauce. This is the right way of including vegetables in your dinner and that too without wrinkling your nose.
Ingredients-
Half small head green cabbage, cut into quarters
Half head cauliflower, cut into florets
the round end of medium butternut squash, peeled and seeded
Salt
sunflower-seed oil
One large red onion, thinly sliced
One 2-inch piece ginger, grated
Six cloves garlic, grated
One fourth cup low-sodium tamari
roughly chopped cilantro to garnish
One fourth cup coconut aminos
One cup cooked brown rice or quinoa
One and a half tablespoons freshly cracked coarse black pepper
Procedure-
Keep the oven for preheating at 450 degrees F. Add all the vegetables on the baking sheet and drizzle some sunflower-seed oil along with salt. Roast them for 40 minutes in the oven while flipping them from time to time.
While the veggies have been halfway done, heat some sunflower-seed oil over medium heat and add garlic, ginger, and red onions. Cook it till it gets caramelized after 15-20 minutes. Now add coconut aminos, tamari, black pepper, and mix them well.
Shut down the heat.
Now place the roasted veggies over the cooked brown rice and pour some black pepper sauce over it.
Braised Tofu and Mushrooms in Black Pepper Sauce
This is an easy dish with umami and served with hot steamed rice. It goes perfectly well for weeknight dinners and meatless meals. If you want to invite vegetarian or vegan friends for dinner, then a dish is a good meal for them.
Ingredients
5–12 Red chilies chopped
9-10 Garlic cloves
One medium Yellow Onion – small chopped
2 Spring Onions (Scallions) – chopped
6-7 Black Asian Mushrooms thinly sliced
350g Firm Tofu cubes
Six tablespoons light soy sauce
Salt & Pepper
One tablespoon Pure Rice Vinegar
Two tablespoon oyster sauce
One tablespoon + one teaspoon Cornstarch mixed with one and a half cup Water
One and a half tablespoon freshly cracked Black Pepper
Two tablespoon Olive Oil
One tablespoon + one teaspoon Brown Sugar
Two teaspoon sesame oil
One teaspoon Chili Oil
Procedure-
Add one tablespoon olive oil in a pan, and after it gets hot, add the tofu pieces to it. Let them cook for 1 minute on each side and season them with salt and pepper. Make sure that they don't break, and you handle them gently. With a wooden spoon flip them from time to time so that the pieces get brown on all the sides. After they are crisp and brown, remove them on a plate.
Add the remaining olive oil, chili oil, sesame oil in a wok over medium heat.
After the wok is hot, add the onions and saute it for 1-2 minutes.
Then add the red chilies along with the garlic.
After the garlic is fragrant, add mushrooms to it and let it cook for 4-5 minutes.
After the mushroom has softened, add soy sauce, oyster sauce, rice vinegar and stir it nicely.
To prevent the black pepper from burning, reduce the heat, and add brown sugar along with black pepper.
Mix the spring onions and add the corn slurry to it. Let it simmer for 2-3 minutes.
After the sauce has thickened, add the pan-fried tofu to it and coat.it well.
Serve it on a serving dish with veggies.
Zucchini noodles with black pepper sauce
It is a vegan stir fry that has wholesome veggies in it. It is one of the best ways to clear out all the vegetables from your refrigerator. This black pepper sauce has a zing to it, along with the spiciness of the black pepper and crispiness of the zucchini noodles.
Ingredients-
Three medium zucchini, spiralized
coconut oil
Two bell peppers, thinly sliced
Four carrots, peeled and sliced
One cup of snow peas
2–3 Tbsp fresh cilantro
One green onion, sliced.
FOR THE SAUCE:
One-fourth cup of water
One tablespoon rice vinegar
Half cup gluten-free tamari
One tablespoon pure maple syrup or honey
Half teaspoon black pepper
One tablespoon arrowroot powder
Half teaspoon toasted sesame oil (optional)
Two teaspoons fresh ginger, finely minced
Two cloves garlic, minced
Procedure-
Take all the ingredients of the sauce in a small bowl and mix them up. Add salt and pepper according to taste.
Now over medium heat, add some oil in a large pan and add some coconut oil to it.
Then add the bell peppers along with the carrots. Cook for 3-4 minutes over medium heat.
Add the snow peas, zucchini noodles, green onion, and saute it for 2-3 minutes.
Pour the sauce in the pan and cook for 2-3 minutes.
Remove in a serving plate and garnish it with cilantro.
Tofu minute steak with black pepper sauce and Pommes Frites
A lightly smoked grilled tofu with some added creamy, tangy peppercorn sauce and, of course, the most loved comfort food pommes frites!
Ingredients-
One block Tofu, drained and pressed for 20 minutes, cut into four steaks
Two teaspoon liquid smoke
Vegetable oil for frying
Four tablespoon vegetable oil
Two teaspoon maple syrup
Two large potatoes, peeled and cut into very thin chips
For the Sauce:
50g vegan butter
Four tablespoon vegan brandy
One large shallot, finely sliced
Four tablespoon vegetable stock
Two tablespoon green peppercorns jarred
Four tablespoon soy cream
Lemon juice, salt, and black pepper to taste
Procedure-
For making the sauce add the shallots in the butter and saute them till it softens. Then, increase the heat, add brandy to it, and cook for some time till it gets evaporated.
Then add the stock and stir it and let it evaporate till it is reduced to half. Repeat the same procedure with cream and then add green peppercorns, salt, lemon juice, and black pepper.
Blanch the potato fries in hot water for 4-5 minutes, drain them and dry on a kitchen towel.
Fry them in hot oil for 3 minutes till they are crispy.
Preheat your outdoor grill or grill pan and coat it with some oil. Mix maple syrup, liquid smoke, vegetable oil and brush them on the tofu slices. Grill them for one minute on each side.
We hope you like our black pepper sauce recipes on this blog and you definitely try them at home. Please do let us know your reviews on this blog in the comments below.
Doesn't the idea of mushrooms mix merged along with the black pepper sauce sounds spectacular to you? Yes, it's fabulous! Your taste buds will scream with joy when this black pepper sauce melts into your mouth, and I am sure you would not like to elude the lovely grilled mushrooms with it.
Passive Time

35-40

minutes
Passive Time

35-40

minutes
Add the roasted black peppercorns in a mixer to crush them

Take a pan, stream some oil and pour onions to it. Keep sauteing it about 1 minute, afterwards add the ginger and garlic in it. After that, pour some peppercorns in it and again saute for 2 minutes.

Add up the ketchup and oyster sauce. Pour the dark soy sauce, vinegar, sugar and some salt in it.

Take the grill pan, heat it, use a toothpick, and string the mushrooms on it. Sprinkle it up with some lemon juice and salt.

Grind the mixture of the sauce well and stream it into a bowl. Stream some water on the mushrooms and allow it to get cooked well.

Mix some saucepan to the pan and nicely coat it.
You have to make sure to avoid the over-grilling of mushrooms an extra time before prior you add it to the sauce; it might turn soggy.
Nutrition Facts
Volcanic black pepper sauce with grilled mushrooms
Amount Per Serving
Calories 450
Calories from Fat 369
% Daily Value*
Total Fat 41g 63%
Cholesterol 2mg 1%
Sodium 2011mg 84%
Potassium 33mg 1%
Total Carbohydrates 20g 7%
Protein 1g 2%
* Percent Daily Values are based on a 2000 calorie diet.