Gluten Free Lunch Ideas that Support Celiac Disease Diet
7 GLUTEN FREE LUNCH IDEAS FOR SCHOOL
To all the busy mommas out there who are always on toes for rat race of work, I genuinely understand your quench to find gluten free lunch ideas for kids and hubby! You might be the one who struggles to go around with the balanced gluten free lunch ideas that you might have deeply researched! Shed off all your doubts, as I am going to wipe out all of your diet hardships here I am with the fantastic, gluten free lunch ideas that are recreated to fit your folk's yumminess-standards! All of these amazing meal lunch ideas are gluten and grains free. Scroll out till the end and get amazed by these spectacular delicious gluten free lunch ideas!
Explore my lovely piece of information that is loaded with all amazing, go-to recipes that will make your family fall in love, the health-packed facet of being free of gluten is always welcomed with an open heart. Discover some vegetable-filled, grain-free, gluten free lunch ideas for families that keep you energized whole day and shuts out the afternoon energy-draining crush; you will be glad to find out some most delicious meals that are so yummy, you won't feel the regrets of cutting out anything!
A gluten free diet is beneficial to fight celiac disease!
A gluten-filled diet is a big no-no for those who have a health alignment called 'celiac disease', a specific health condition that spikes up an immune response when a person eats gluten-filled meals. The gluten free lunch ideas are certainly beneficial who deal with celiac disease.
A diet abundant in gluten can also be held responsible for raising symptoms like bloating, stomach issues, and diarrhoea, so a person with non-celiac gluten sensitivity can also opt for gluten free lunch ideas.
Though some of the facts might need more medical research, numerous researches have proven that opting for a gluten-free diet is much rewarding for people who deal with digestive issues like stomach pain, gas, diarrhoea, and constipation and more importantly, irritable bowel syndrome.
GLUTEN-FREE LUNCH IDEAS
Though you might want to elude all the meals that come with gluten, scanning the every packed product is certainly not feasible. Yet eventually, after having some period with the disease, you will be able to filter out what works for your food allergy or not. You can prefer for these yummy as well as healthy, gluten free lunch ideas for kids, in the weekly rotation to keep your folks in a cheerful mood with allergy-free meals!
Classic Meat filled Sandwiches
Restricted access to cherished bread is the one thing that becomes the deal-breaker for everyone while you stick with a gluten-free diet. And a search for perfect gluten free bread that would fit the gluten free lunch ideas is a forever research, so, you can go for 'Paleo Blender bread' for a gluten-free meat sandwich!
Being high on meat filling, stuffed with cheese, loaded with soft, vibrant veggies, this ultimate meat sandwich feels like a treat that will become a hit in your family!
Avocado Salad with Shrimp
The soulfully tasty shrimp avocado salad is finger-licking good! Once you get a bite, you could never keep it out of gluten-free diet course! You can serve it as a chopped salad along with the lovely culinary of your choice. You family's heart will be delighted when a table has a spectacular presence of this delicious salad.
You can even bring on this salad platter on dinner or breakfast, and it lovingly satisfies all. It is full of paradise-like taste and light, tender amusement of avocados coupled up along with crunchy shrimp. An easy, vibrant dressing of cilantro makes it even more appealing, fresh and aromatic. After one bite, your heart will scream with joy!
Bean & Beef Slow-Cooked Chili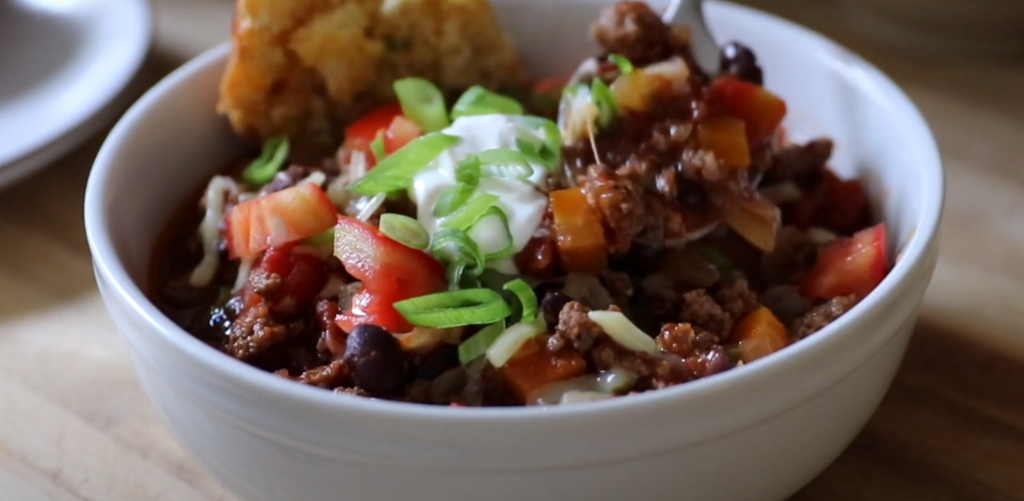 On boring, monotonous weeks, reward and cheer yourself with a warm, relaxing meal of classic beef paired up with bean chilli, an ultimate slow cooker meal! You can pull it off well on weekend dinners!
When you get yourself the comforting bowl of slow-cooked chilli, you can count on its deliciousness that is unmatchable. It is prepared with beef and beans, loaded with abundant protein, the best option for a house jamboree or a weekend outing brunch. Drizzle up some exotic ingredients like cilantro, cheese and red onion and you will love it even more.
White Bean Salad with Herbed Tuna
Almost all pantries never run short of canned beans, so these items easily pave the way for tasty classic white bean salad, it gets more flavourful with the pairing of herbed tuna. Not only a good option among gluten free lunch ideas, but this super easy recipe is even perfect for calming your last moment hunger and late-night treats.
This is a classic blend of canned tuna with white beans, red onions is very tasteful. This unique, easy recipe can be prepared for the unexpected guest house visits.
Black Bean packed Peppers + Quinoa
Stuffed bell peppers are one of the unforgettable yummy recipes that I have had through my early years. For many years, I have played a lot with quinoa filled recipes, and trust me quinoa recipes taste toothsome! Finally, I have landed upon this one to follow my gluten free lunch ideas; it suits well with my veggie cravings!
Though quinoa has an appearance of grain, it is a seed, a powerhouse of protein and wholly gluten-free belongs to South America. All kinds of predominant dairy items like cheddar cheese, farmers cheese are nicely paired with quinoa. Fill green or red peppers with it, and you get an amusement of it, you can even nail your outdoor lunches with this great dish.
Chopped Greek Salad with chicken
A plain Greek salad can be transformed into an ultimate lunch course when you pair it with some savoury chicken. Don't hesitate to replace tomatoes or cucumber with vibrant bell peppers. Preserve it for another salad course, when you are left out with remaining chicken.
Vegetable, Eggs + Steak
A perfect low carb, gluten free lunch ideas don't always have to be dull and plain, they could be geared up with a taste by few yummy eggs and steak. While making this recipe, spark your creativity and unhesitatingly stream any veggies you love.
Also Read,
This is a go-to kind of meal for everyone, very easy-peasy yet exceedingly yummy. It serves many even in a single serving. Many times I've amalgamated the roasted asparagus chunks to make it more flavoursome and it fits up nicely along with soft egg yolk. Go for other greens or keep it plain if you don't adore many vegetables.
The Sultry Blueberry Muffins
Anyone can easily afford these gluten-free muffins if you intend to go for a homemade recipe, and very simple to make! A single serving can yield many fluffy, delicious blueberry muffins that can be packed with a regular gluten-free diet for a flip over a monotonous meal!
These gluten-free muffins are my family's all-time favourite, as all of them are muffin fanatic. I couple them up with meal combos to spark up dull meals. You can make alterations in these sweet muffins to fit your dietary priorities and needs.
Mediterranean Quinoa Salad
Mediterranean Quinoa Salad is a gluten-free and vegetarian salad which is a convenient and easy recipe; you can have this light meal as a side dish or even make a great relaxing lunch.
Quinoa is a spectacular grain which is wholly gluten free, positively packed with protein and fibre, it needs to be called out when you specifically look out for cheap gluten free lunch ideas. Apart from doing it as a classic side meal, you can fill up a salad with it for an extra kick of nutrition.
Cream filled Egg Salad
This unique all-round dish is best for breakfast, lunch or even dinner, a classic egg salad comes up with ultimate flexibleness to make it suitable for every meal course, undoubtedly among the best gluten free lunch ideas. It thrives amazingly as a topping, wraps or even handy sandwiches. As being gluten-free, low carb recipe it is truly versatile.
Just within a few minutes, you get a protein-filled salad for lunch or dinner, so what more you could ask on busy days, fill up your lunch box or use it as a filling for other recipes. I am still swooning over the yumminess of this egg salad since the day I have tried it initially.
Homemade Vegan Burger
The fantastic vegan burgers are inspired by Southwestern cuisine. These vegan and gluten-free burger recipes can be shaped in various ways with distinct vegetable combinations and spices. A classic Mushroom burger is exceedingly tasty that even a meat burgers will be defeated by this yummy, gluten-free meal, needless to say, a mushroom is an excellent option to stuff vegan burgers.
Mushrooms evoke the great texture and soft flavour to the gluten-free veggie burgers, if you have been craving for a kick of something savoury, homemade vegan burgers packed up with mushroom and veggies is much healthier option than a meat burger.
Veg Jambalaya
The gluten free lunch ideas can also come with the most distinct and aromatic flavour. With a dash of spicy staples, the easy Vegetable Jambalaya gives a perfect taste kick. Just substitute your meat with canned beans, and go through some plain recipe tips, you can bring a very relaxing vegetarian dish. It satisfies your hunger anytime. This meal is pure paradise for vegetarians.
So next time, when you want to bring out the most amazing flavour in your vegetarian diet, go for this enchanting dish! This dish does well with even simple spice ingredients, so there is no complicated process to work on!
Chicken Chili
You will only need a pre-cooked chicken to make this tangy gluten-free recipe, and within a few minutes you get to taste most toothsome thing for lunch, it could save you from the undesirable laboring hours in the pantry!
Turkey with lettuce
This recipe is a classic amalgamation of lovely, sour-sweet ingredients like chopped turkey, lettuce, tomato chunks, and creamy, gourmet mayonnaise on warm corn tortillas.
Almond Chicken Salad
When I was a kid, my granny used to delight us with a delicious treat of chicken salad, an additional indulgence of grapes and almonds during wintry cold lunches was a pure bliss. It is one among the yummiest chicken salad recipes. I fell in love with the dish even more, when a few years ago, I coupled it up with white wine. The flavours complimented so well; it was a lovely treat! I always lookout for an occasion to make this wonderful dish for guests!
Appetizing Dundee Fruit Cake
This classic tantalizing dessert is a Scottish fruit cake, loaded with fruity aroma! So alluring in taste, not even a single person can guess that it is free of gluten! This gourmet dessert is usually preferred for the formal occasions only, but there is no thumb rule to have it on celebrations only, you can bring it on to cheer up your simple gluten free lunch ideas!
Dundee cake is a light and blissful flavoured fruit cake that can be coupled up with classic gluten-free diet! Also, your friends and family will be impressed by your pantry skills when you ornament your brunch table with this appealing, colorful cake. It is suggested to specifically opt for gluten-free flour and baking powder to serve gluten-free folks.
Roasted Red Pepper Chicken with Almonds
This recipe sounds much complicated and time-consuming but let me tell you; it only requires seven ingredients to prepare this mouth-watering recipe along with almonds and cilantro. The tender and soft chicken thighs are prepared in a cream-filled roasted red pepper sauce and an extra dose of almonds and coconut milk is must to raise lovely aroma.
This dish is a must-have dish for a day-out lunch party, totally gluten-free and dairy-Free, enough to enchant everyone. It is straightforward, easy-peasy and tasty enough to fulfill everyone's hunger!
I have imagined an exotic platter full of lighly grilled salmon even before I started this easy gluten free lunch ideas list! A traditional salmon recipe turns out most sizzling when it is grilled, and guess what you can have this spectacular dish during your gluten-free diet! Amazingly, a classic grilled salmon recipe requires no alterations to transform it into a gluten-free salmon meal! A tender salmon is blanketed in traces of tangy, savoury flavours and afterwards grilled.
A simple, handy, one-step process brings you the delightful treat of soft tender meat. Though you can also opt for numerous gluten-free fish recipes, this one comes up with the most unique taste and ease in making! An exotic army of lovely vibrant greens, breezy cucumbers, shredded veggies, tomatoes chunks does the best to evoke much flavour when brought as a side dish with grilled salmon. Well, a gluten-free dressing is always welcomed!
Grilled Lemon Chicken Platter
A tangy platter filled with grilled lemon chicken never fails to amaze any meat lover, it belongs to the unique league of best gluten-free dinner treats, yet you can have it on lunches too, definitely special meal among my family. I make this soulful platter lunch in warm summer days when I want to keep it simple, yet kiddos crave for savoury, tangy brunch! It's one of the most affordable meals for gluten free lunch ideas.
We tend to gravitate towards grilling to prevent our house from heating up to have that spicy lunch, so warm tropical days are the ideal for this recipe. This grilled lemon chicken is super easy and gets naturally paired up with robust garlic aroma; this recipe does not require so-called beforehand preparations, gets prepared rapidly and gives soft, aromatic and spicy meal. What else you could ask while following a dull, lifeless gluten-free diet!
Gluten-Free Fried Green Tomatoes
This authentic southern recipe is summer special. You have to opt for buttermilk, cornmeal, oat flour for a classic gluten-free version, afterwards ingredients are pan sautéed to the point they take golden hues and crispy texture. Nutty fried tomatoes are soft inside and crispier on the outside, you can make your outdoor brunches more enchanting with this one, and a companionship of fruit cocktail is always a big yes.
Homemade Spinach Tortillas
I would have attempted this recipe many times, if I had previously got familiar with the fact that tortillas are immensely easy to prepare! If you can, you will know the everyday pains of preparing those time-consuming lunches for everyone!
It's genuinely a thrilling amusement for taste buds to have gluten-free tortillas on a weekday. So, you would doubt that whether your homemade spinach tortillas will wholly mimic the taste of spinach? Get rid of those worries; an addition of spinach is just a creative attempt to load your gluten free lunch ideas with the goodness of veggies. A simple recipe will only require a few essential ingredients such as fresh spinach, olive oil, sea salt and your health packed brunch is all-ready!
Grilled Shrimp Tacos with Corn Salsa
For a perfect summer styled gluten free lunch, keep this fantastic dish on top priority! This is a wholly gluten-free and easy-to-make meal. The vegetarians can use black beans to substitute shrimp and have the treat of this sultry dish.
If tacos are what you have been craving for since the day you walked gluten-free diet path, go around with grilled shrimp tacos, you will love them! These tacos are very light in taste and flavour, which genuinely feels like a paradise-like treat in summer.
Baked Gluten-Free Orange Chicken
This ideal, tasty, baked orange-flavoured chicken will become one of your go-to takeout lunches, and a fantastic option as a gluten-free lighter lunch! Chicken is blanketed in the blend of arrowroot and rice flour, baked and coated in an ultimate sour, tangy sauce. This recipe is utterly yummy and I have been wholeheartedly waiting to share this toothsome amusement with you all from a very long time!
Yes, this baked orange chicken is one of my most cherished gluten-free lunch ideas, after a very long duration, I am admitting this much of love for any mouth-watering recipe! This baked orange chicken is a very light meal; you can also easily dodge that undesirable deep-frying and an utter mess of oil.
Gluten-Free Chicken Biryani with Vegetable Salad
Chicken biryani is a regal Indian dish, which is classically opted for fine dines and for the occasions, authentic chicken biryani is lightly spicy, comprised of savoury chicken and basmati rice, and alteration of regular oil with olive oil can be a significant aid for a gluten-free diet. You can find numerous gluten-free chicken biryani recipes for your family, I can assure you, this dish turns out to be a forever love of everyone who tries it. Though the preparation might take some time, you will end up with the most classic mouth-watering rice bowl, which is filled regel aroma of Indian spices!
The recipe might take one to one and a half hours. I feel that the gathering all aromatic herbs and spices require much more time than the actual cooking, but hold your breath, you eventually get a very delicious and yummy lunch. An additional side dish of appealing salad is beneficial to balance out the carb-load of rice, can be the best combo for house parties and small occasions.
Exotic Chicken Lettuce Wraps
The Asian chicken lettuce wraps are among the best gluten free lunch ideas; these are paleo-friendly and loaded with health-friendly ingredients. You can prepare this chicken lunch recipe to satisfy your taste buds in a significantly less time frame; it just needs a few fresh ingredients and plain wraps. 
This is a one-step, easy peasy, ultimate weekend lunch recipe, explodes with wonderful soulful aroma and taste. Just by making some slight changes, you can carve out its gluten-free, paleo-friendly version. Go for gluten-free ingredients like soy sauce, sesame oil, rice vinegar, garlic, wine, a dash of honey and prepare the tastiest Asian chicken lettuce wraps!